Is the website displaying in the correct language? Please confirm or select a different language.
CB-3 Concrete Batch Controller
One aggregate and one cement scale, water scale is standard for P/N 177747
Manual override controls
Web server
128 GB data storage
Material usage by day/week/month/year and inventory on-hand with reporting
Automatic aeration control for cement silos and weigh hoppers
Multiple freefall values per material
Split batching for loads larger than plant capacity with pre-weighing next batch
Automatic dust collection outputs
Order-based batching
Units: US standard or metric (SI) operation
Aggregate conveyor control
Loss-in-weight aggregate dispensing
Three dual-speed or six single-speed aggregates
Two dual-speed or four single-speed cements
Weighed water with water reservoir (P/N 177747)
Up to eight auxiliary manual controls
Mixer controls for central mix block or precast plants
Ethernet TCP/IP
Up to six admixture
Multi-user interface
Dual moisture probe interface supports 4-20 mA
Options
Monitor
Keyboard
USB hub (4-port)
USB Wi-Fi dongle
Mouse
Additional four admixture control system
Portable batch plant system
Control panel for remote batching
Customized batch ticket printing
Go beyond batching with CB-3
The CB-3 concrete batching control system is fast, efficient and ideal for ready-mix and block plants. It is capable of controlling portable plants, stack-up plants, central mix, dry batch and pre-cast plants. From weighing raw material to automatic printing of tickets and detailed reports, your entire operation is centrally controlled with CB-3.
Industrial PC Power
The CB-3 is powered by an industrial PC. Offering the ability to view multiple windows at once, the PC interface offers unlimited possibilities to save time and optimize efficiency.
Multiple Windows and Simultaneous Processes
Operators can start one batch and in additional windows perform secondary actions including, prepping the next batch, accessing real-time weather conditions, creating driving directions to the job site, and accessing advanced reports. Multiple users can access the CB-3 interface through the browser-based software, and its SQL lite database networks with corporate servers. 
Advanced Inventory Management
Inventory management is taken a step further with the CB-3. With the ability to notify the operator when materials are low, the CB-3 helps keep operations running smoothly.
Truck Monitoring
Tracking truck movements is streamlined with the CB-3's integrated truck system. Know where your trucks are to keep deliveries on schedule and queue additional batches. Drivers can communicate with the CB-3 via SMS text messaging. Drivers text a user-configurable number to the CB-3, which correlates to a pre-programmed status. For example, texting "3" could signify that the driver is cleaning out the truck or returning to the plant.
Easy Integration
The CB-3 easily integrates with plant equipment and is an ideal replacement for existing concrete batch controllers. The retrofit option to upgrade a CB-2 with CB-3's enhanced features and industrial PC is a smart solution for applications already familiar with automated concrete batching equipment and control.
Model:
B&R APC2100

Processor Type:
Intel Atom® E3845
Quad core

Data Storage Type:
Industrial CFast card

Data Storage Capacity:
128 GB

Interfaces:
Four USB
Two Ethernet TCP/IP

Monitor Output:
One SDL/DVI

Operating System:
Linux Ubuntu

Voltage:
24 VDC
Power:
AC voltages: 100 to 240 VAC
Frequency: 50/60 Hz
DC voltages: 12 to 24 VDC

Power Consumption:
AC: 25W (universal) or 65W (others)
DC: 25W for all models

Excitation Voltage:
10 VDC (+/- 5 VDC)
16 × 350 ohm or 32 × 700 ohm load cells per A/D card

Analog Signal Input Range:
-45 mV to +45 mV

Analog Signal Sensitivity:
0.3 μV/graduation minimum at 7.5 Hz
1.0 μV/graduation recommended

A/D Sample Rate:
7.5 to 960 Hz, software selectable

Resolution:
Internal: 8,000,000 counts
Display: 1,000,000

System Linearity:
± 0.01% full scale

Digital I/O:
Six I/O channels on CPU board;
Optional 24-channel I/O expansion boards

Communication Ports:
Four ports on CPU board support up to 115,200bps
Port 1: Full duplex RS-232
Port 2: RS-232 with CTS/RTS; PS/2 keyboard
interface or USB type A and B connectors
Port 3: Full duplex RS-232, 20mA
Port 4: Full duplex RS-232, 2-wire RS-485, 20mA
Optional dual-channel serial expansion boards
Channel A: RS-232, RS-485, 20 mA
Channel B: RS-232, 20 mA

Display:
(W × H)
4.6 × 3.4 in (116 × 86 mm)
320 × 240 pixel
LCD module with adjustable contrast
Transmissive display
Transflective display (optional)

Keys/Buttons:
27-key membrane panel, tactile feel, PS/2 or USB port for external keyboard connection

Temperature Range:
Certified: 14 °F to 104 °F (-10 °C to 40 °C)
Operating: 14 °F to 122 °F (-10 °C to 50 °C)

Rating/Material:
NEMA Type 4X, Type 12, IP66
Stainless steel

Weight:
Universal enclosure: 9.5 lb (4.3 kg)
Wall mount enclosure: 23.0 lb (10.4 kg)
Panel mount enclosure: 8.5 lb (3.9 kg)
Deep universal: 11 lb (5.0 kg)

Warranty:
Two-year limited

EMC Immunity:
10 V/m

Approvals:
NTEP CC 01-088, Class III/IIIL 10,000d
Measurement Canada AM-5426,
Class III/III HD 10,000d
OIML R76/2006-A-GB1-19.08
EU Test Certificate TC11584
UL/cUL Listed (Universal, Deep Universal and Wall Mount)
UL/cUL Recognized (Panel Mount)
UL/cUL Listed 508A (custom Wall Mount)
CE Marked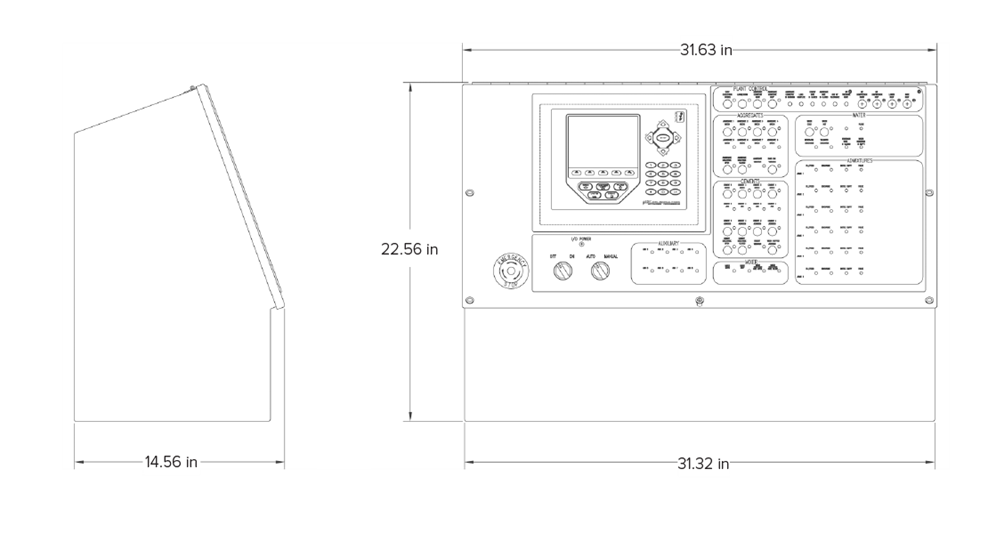 Resources / Downloads
| Title | Version | Revision | Download | Email | Category | Archived |
| --- | --- | --- | --- | --- | --- | --- |
| CB-3 Automated Concrete Batching System Technical Manual | 1 | E | Download | Email | Bulk Indicators/Controllers|Indicators / Controllers|Concrete Batch Controllers|Weight Indicators | No |
| CB-3 Moisture Probe Interface Addendum | | | Download | Email | Concrete Batch Controllers|Bulk Indicators/Controllers|Indicators / Controllers|Weight Indicators | No |
| CB-3 Decumulative Cement Silo Scale High Level Alarm Addendum | | A | Download | Email | Concrete Batch Controllers|Bulk Indicators/Controllers|Indicators / Controllers|Weight Indicators | No |
| Title | Collateral Wizard | Request | Download | Email | Category |
| --- | --- | --- | --- | --- | --- |
| CB-3 Automated Concrete Batching System | | Request | Download | Email | Indicators / Controllers|Weight Indicators|Bulk Indicators/Controllers|Automated Systems |
| CB-2 to CB-3 Upgrade Kit Sales Literature | | | Download | Email | Indicators / Controllers|Weight Indicators|Bulk Indicators/Controllers|Automated Systems |
| Title | View | Download | Email | Category |
| --- | --- | --- | --- | --- |
| CB-3 Concrete Batching Control System Overview | View | Download | Email | Concrete Batch Controllers |
| CB-3, Section 1: External Hardware | View | Download | Email | Concrete Batch Controllers |
| CB-3, Section 2: Internal Hardware | View | Download | Email | Concrete Batch Controllers |
| CB-3, Section 4: Batching Menus | View | Download | Email | Concrete Batch Controllers |
| CB-3, Section 3: General Software Settings | View | Download | Email | Concrete Batch Controllers|Bulk Construction |
| CB-3, Section 5: Running a Batch | View | Download | Email | Concrete Batch Controllers |
| CB-3, Section 6: Reporting | View | Download | Email | Concrete Batch Controllers |
CB-3 Concrete Batching Control System Overview
Parts
| Part # | Description | List Price | Cart |
| --- | --- | --- | --- |
| FLD-INSTALL | Factory field installation required (minimum 3 days on site) | Call for price | View Cart |
| FLD-INSTALLSA | Factory field installation, Saturday | Call for price | View Cart |
| FLD-INSTALLSU | Factory field installation, Sunday | Call for price | View Cart |
Options
| Part # | Description | List Price | Cart |
| --- | --- | --- | --- |
| 175877 | Upgrade Kit,CB-2 to CB-3 PC included in kit Must have internet connection for remote support. | Call for price | View Cart |
| 179209 | Kit,PC Accessories Includes Monitor, Keyboard, and Mouse. | List Price: $450.00 | View Cart |
| 179210 | Monitor,Acer LED 20in Acer V206HQL | List Price: $290.00 | View Cart |
| 179211 | Keyboard,Microsoft USB Microsoft 600 USB Wired | List Price: $47.50 | View Cart |
| 179212 | Mouse,Microsoft USB Microsoft USB Wired Basic Optical | List Price: $44.50 | View Cart |
| 185667 | Hub,USB 2.0 4 Port Supports data rates of 1.5/12/480 Mbps Backwards compatible with USB 1.1 | List Price: $20.00 | View Cart |
| 186277 | Adapter, Mini Wifi N USB 2.4GHz Frequency Band, 150Mbps Max Data Rate | List Price: $80.00 | View Cart |
| 196700 | CB-3 Option, 4 AdditionalAdmix Control System | Call for price | View Cart |