Is the website displaying in the correct language? Please confirm or select a different language.
UPC5200/UPC5210 High Pressure Calibration Standard
Available in enclosure with carrying handles (UPC5200)
Two sets of ranges to choose from: 10,000/5,000/2,000 psi and 5,000/2,500/1000 psi
Three independent selectable ranges in each instrument
±0.05% F.S. accuracy of each independent selectable range
Available with Light Emitting Diode (LED) or Liquid Crystal Display (LCD)
Pressure display resolution 0.02% F.S. typical for each range
Different technicians can calibrate the same Device-Under-Test and get identical results
Electronically controlled 10:1 intensifier system
Easy to operate, training can be accomplished in 10 minutes
Easy to carry; approximately 51 lb
Adjustable overpressure protection above input pressure
Precision pressure vernier control
Voltage/current display mode for transducer testing
32 VDC excitation output
Non-destructible, finger tip control micrometering valves for pressure control
Automatic pushbutton calibration, microprocessor controlled and maintained
Quick-disconnect fitting and hose included
Pneumatic only; no hydraulics or distilled water messes
Calibration certificate included; traceable to the National Institute of Standards and Technology(NIST)
Applications
Any high-pressure, pneumatic-only application
Initial test of high-pressure hydraulic systems
Boiler feed pressure for power plants
Providing sophisticated performance in high-pressure applications, the durable UPC5200 high-pressure calibration standard is the most effective digital pressure calibration standard in its class.
The UPC5200 high-pressure calibration standard excels in applications presenting pressure levels up to 10,000 psi. Featuring automatic pushbutton calibration, this unit guarantees 0.05% accuracy in three switch-selectable ranges. The exclusive patented precision pressure Orion 3A vernier provides infinite control to obtain exact pressure readings, while a reliable overpressure regulator protects units under test from permanent damage.
The fully-pneumatic UPC5200 high-pressure digital calibration standard is powered by nitrogen and eliminates the mess and oil thermal equilibrium problems common to hand pump hydraulic systems. Clean operation makes this calibrator ideal for use in aerospace, food and beverage and general industry. The UPC5200 high-pressure calibration standard is easy to operate and training can be accomplished in as little as 10 minutes. Different technicians can calibrate the same transmitter and get identical results...every time.
For special high-pressure applications, the portable UPC5200 or 19-inch rack-mount UPC5210 provides the ultimate in dependable, high-precision performance.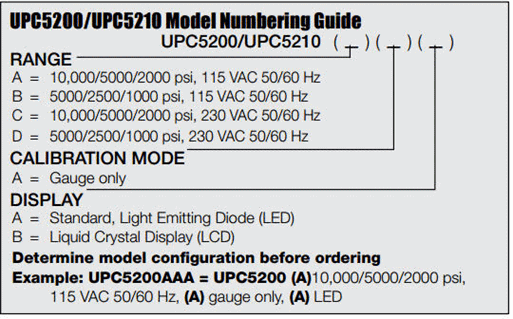 Available Calibration Modes:
Gauge

Overall accuracy:
±0.05% F.S. maximum. Accuracy statement includes all effects of linearity, hysteresis, repeatability and ambient temperature.

Power:
115 or 230 VAC 50/60 Hz

Temperature Range:
Operating: 40°F to 140°F (4°C to 60°C)
Storage: 0°F to 185°F (-17°C to 85°C)
Relative humidity: 95%, non-condensing

Pressure Media:
Clean dry gaseous nitrogen, standard

Regulated Pressure Gauge:
Size: Two and one half-inch diameter
Range: 0-1500

Pressure Media Filter:
Rating: 7 microns, nominal
Type: Field replaceable filter cartridge contained within a stainless steel outer case

Control Valves:
Type: Micro-metering with positive shut off, adjustable stop and replaceable seat, non-destructible
Material: 300 series stainless steel outer body

Internal Piping:
Tubing: 1/4 in. O.D. and 1/8 in. O.D., 300 series stainless steel, seamless
Couplings: 300 series stainless steel Swagelok®

Output Test Port:
Style: Quick-disconnect type
Pressure Rating: 10,000 psig minimum, connected or disconnected

Pressure Hoses:
Quantity supplied: Two; one input and one output
Length: 4 feet, nominal

Vernier Control:
Vernier Volume: 0.4 cubic inch, nominal
Vernier Mechanical Rotation: 15 turns, nominal
Adjustable Sensitivity: 0.005 psi, minimum

Booster Pump Solenoid Valve:
Type: Three-way, normally closed, electronically controlled
Pressure Rating: 1500 psig
Power Requirements: 115 or 230 VAC, 50/60 Hz, 10 watts

Accumulator Gauge:
Size: Two and one half-inch diameter
Range: 0-15,000 psi

Input Pressure Regulator:
Pressure Rating: 3000 psig maximum
Output Pressure Range: 0-1000 psi
Construction: Self-relieving, single stage regulator

UPC5200 Internal Pressure Sensor:
Type: Bonded, metal foil strain gauge or equal
Sensitivity: 3 mV/V, nominal
Construction: Completely weld sealed stainless steel outer body and pressure cavity

External Carrying Case:
Type: Deep-drawn aluminum case with cover and carrying handles
Material Thickness: 0.090 in. nominal
Finish: Grey polyurethane baked-enamel paint, textured finish

Current Display:
0-20.000 mA counting by 0.005 mA

Weight:
UPC5200: 51 lb (23.1 kg) including all hoses and cables
Parts
| Part # | Description | List Price | Cart |
| --- | --- | --- | --- |
| 61320 | Calibrator,UPC5200BAA Portable High Pressure Calibration Standard, Ranges 5000/2500/1000 PSI, Gage Only, Accuracy 0.05% FS of Selected Range, LED Display, Power Requirement 120 VAC, Includes National Institute of Standards & Technology (NIST) Calibration Cert, Test and Input Port Hoses, Power and Electrical Cables If written data points are required for new units additional charge. Note: Pressure Trap PN 58478 and Calibration Module PN 60109 Sold Separately. | Call for price | View Cart |
| 95586 | Calibrator,UPC5200CAA Portable High Pressure Calibration Standard, Ranges 10,000/5,000/2,000 PSI, Gage Only, Accuracy 0.05% FS of Selected Range, LED Display, Power Requirement 230 VAC, Includes NIST Cal Cert, Test and Input Port Hoses, Power and Electrical Cables. If written data points are required for new units additional charge. Note: Pressure Trap PN 58478 and Calibration Module PN 60109 Sold Separately. | Call for price | View Cart |
| 61239 | Calibrator,UPC5200AAB Portable High Pressure Calibration Standard, Ranges 10,000/5,000/2,000 PSI, Gage Only, Accuracy 0.05% FS of Selected Range, LCD Display, Power Requirement 120 VAC, National Institute of Standards & Technology (NIST) Calibration Certificate included, If written data points are required for new units additional charge. Note: Pressure Trap PN 58478 and Calibration Module PN 60109 Sold Separately. | Call for price | View Cart |
| 61322 | Calibrator,UPC5200BAB Portable High Pressure Calibration Standard, Ranges 5000/2500/1000 PSI, Gage Only, Accuracy 0.05% FS of Selected Range, LCD Display, Power Requirement 120 VAC, National Institute of Standards & Technology (NIST) Calibration Certificate included, If written data points are required for new units additional charge. Note: Pressure Trap PN 58478 and Calibration Module PN 60109 Sold Separately. | Call for price | View Cart |
| 109561 | Calibrator, UPC5200CAB Portable High Pressure Calibration Standard, Ranges 10,000/5,000/2,000 PSI, Gage Only, Accuracy 0.05% FS of Selected Range, LCD Display, Power Requirement 230 VAC, National Institute of Standards & Technology (NIST) Calibration Certificate included, If written data points are required for new units additional charge. Note: Pressure Trap PN 58478 and Calibration Module PN 60109 Sold Separately. | Call for price | View Cart |
| 104069 | Calibrator,UPC5200DAB Portable High Pressure Calibration Standard, Ranges 5000/2500/1000 PSI, Gage Only, Accuracy 0.05% FS of Selected Range, LCD Display, Power Requirement 230 VAC, Includes NIST Cal Cert Test and Input Port Hoses, Power and Electrical Cables. If written data points are required for new units additional charge. Note: Pressure Trap PN 58478 and Calibration Module PN 60109 Sold Separately. | Call for price | View Cart |
Options
| Part # | Description | List Price | Cart |
| --- | --- | --- | --- |
| 58478 | Pressure Trap,UPC5200 All Ranges, PIN7000 PIN7010 PIN8000 PIN8010 All, UPS3110 and DLR3110 Ranges 5000 PSI and Above Operation | Call for price | View Cart |
| 63259 | LIT,Manual UPC5200 Operating | Call for price | View Cart |
| 55542 | Fitting Kit,Test Port Standard quick-disconnect test port (output) fitting SST male plug on one end and 7/16-20 37 DEG AN-4 JIC male on opposite end w/ internal 40 micron filter, 11000 PSI working pressure, Requires, included, one Cheat Seal 54854 for UPC5200 UPC5210 PIN7000 PIN7010 PIN8000 PIN8010 UPS3110 DLR3110 | Call for price | View Cart |
| 151017 | Fitting Kit, Output Port Quick Disconnect Fitting Male Coupling Body, other end 1/4-18 NPT Female SST with 40 Micron Filter, 11000 PSI Working Pressure, for PIN8000 PIN8010 UPC5200 UPC5210 PIN7000 PIN7010 UPS3110 DLR3110 - NOTE: May be used to connect DPDG Gauge to Output Port. | Call for price | View Cart |
| 55280 | Hose Kit,Test Port Output UPC5200, PIN7000, PIN8000 5 Foot Long with Quick Disconnect SST Plug on One End and 1/4 inch 37 Degree Female AN Swivel Tube Coupling on Opposite End, 3/16 in Hose ID, 10,000 PSI (690 BAR) Working Pressure | Call for price | View Cart |
| 131096 | Hose Kit,Test Port Output 10 ft. test hose for UPC5200, UPS3110, DLR3110, PIN7000 & PIN8000 (5000 psi and above) Quick Disconnect SST Plug on One End and 1/4 inch 37 Degree Female AN Swivel Tube Coupling on Opposite End | Call for price | View Cart |
| 78939 | Hose ASSY,Pneumatic 5 ft Fill Port One End of Hose 7/16-20 JIC 37 Degree Female AN-4 Swivel Other End CGA-580 Type Nipple for Source 3000 65315 or 98917 or 131385 | Call for price | View Cart |
| 55366 | Hose Kit,Fill Port Input UPC5200 10 Foot Long with CGA-580 Male Nipple on One End and 1/4 inch 37 Degree Female AN Swivel Tube Coupling on Opposite End | Call for price | View Cart |
| 55369 | Hose Kit,Fill Port Input UPC5200 15 Foot Long with CGA-580 Male Nipple on One End and 1/4 inch 37 Degree Female AN Swivel Tube Coupling on Opposite End | Call for price | View Cart |
| 162561 | Hose Assy,Pneumatic 20 ft Fill Port One End of Hose 7/16-20 JIC 37 Degree Female AN-4 Swivel Other End CGA-580 Type Nipple, for Source 3000 PNs 65315, 98917, 131385 | Call for price | View Cart |
| 150613 | Hose ASSY, Pneumatic 5 ft 0-3000 PSI Working Pressure CGA-580 Type Male Nipple Both Ends Used For Filling External Pressure Cylinder PN 59533 - UPC5200, PIN7000, PIN8000 | Call for price | View Cart |
| 60109 | CONDEC Calibration Module For UPC5000 UPC5010 UPC5100 UPC5110 UPC5200 UPC5210 | Call for price | View Cart |