Is the website displaying in the correct language? Please confirm or select a different language.
Ishida Astra II Price Computing Scale with Printer
84 one-touch preset keys, 168 presets (assign two items/key)
Programmable function keys
Blue alphanumeric LCD display (23 digits, 16 segments)
Print speed of 3.9 in (100 mm) per second
Convenient side-loading label feature
TCP/IP 10/100 Base-T Ethernet
USB port (for data backup and restore)
Proportional tare
Customer display
NTEP Certified, Legal for Trade
Approvals
Some approval documents are available to view by clicking the icons below.

WARNING: Cancer and Reproductive Harm California Proposition 65
Retail Scale with Printer
Precise Computing Performance
Engineered for precision and consistency, the Ishida Astra II price computing scale with printer combines unmatched performance with an ergonomic design that enhances customer convenience. Perfect for supermarkets, bakeries, c-stores, delis and more, the Astra II incorporates bright, easy-to-read displays with an easy label loading feature and user-friendly keyboard design for enhanced user operation.
To speed up setup, the Astra II features an optional software tool that allows quick PLU editing using a PC. In addition, the configuration parameters can be saved for safe backup. With memory storage of 2 MB, the Astra II can store a large amount of PLUs, tares and extra messages, virtually ensuring you will never run out of memory.
The Astra II produces eye-catching point-of-purchase labels up to 2.5 inches (64 mm) in width and 6.9 inches (175 mm) long—all at an incredibly fast 3.9 inches (100 mm) per second. With 84 one-touch preset keys and 168 presets, these programmable function keys allow for efficient transactions and ease-of-use for operators.
Capacity:
30 × 0.01 lb

Weighing Resolution:
3,000 display divisions maximum

Display Types:
LCD, blue alphanumeric (23 digits, 16 segments)

Display Items:
Tare: Four digits
Unit price: Five digits
Total price: Six digits

Preset Keys:
84 one-touch preset keys 168 presets (assign two items/key)

Memory Capacity:
2 MB

 

 

Communications:
TCP/IP 10/100 Base-T Ethernet

Platter:
14.5 × 10.5 in (368 × 268 mm)

Printing Speed:
3.9 in (100 mm) per second

Printing:
Direct thermal 2.2 in (56 mm) (448 dot, 8 dot/mm)

Label Size:
Width: 1.5 to 2.5 in (38 to 64 mm) {min}
Length: 1.2 to 6.9 in (30 to 175 mm) {max}

Label Roll:
Inside diameter: 1.6 in (40 mm)
Outside diameter: 3.9 in (100 mm)

Label Backing Paper:
Width: Up to 2.6 in (66 mm)

Power Supply:
AC 100 to 240 V, 50/60 Hz

Power Consumption:
Standby: 50 w
In operation: 100 w

Classification:
NTEP CC 07-005
UL Listed

Warranty:
One-year limited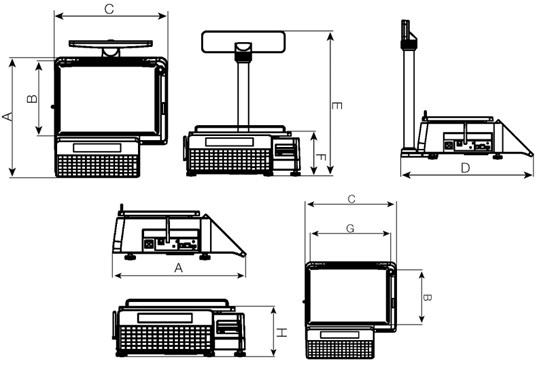 Dimensions: Bench
Unit
17.2 × 16.1 × 6.3 in (437 × 410 × 159 mm)
Stainless Steel Platter
10.5 × 14.6 in (268 × 370 mm)
Dimensions: Pole
Unit
17.2 × 16.1 × 6.3 in (437 × 410 × 159 mm)
Stainless Steel Platter
10.5 × 14.6 in (268 × 370 mm)
Unit with Pole
19.7 × 16.1 × 20.6 in (500 × 410 × 524 mm)
Resources / Downloads
| Title | View | Download | Email | Category |
| --- | --- | --- | --- | --- |
| Astra II Customer-facing Display | View | Download | Email | Basic Price Computing Scales |
| Astra II Onboard Ethernet TCP/IP | View | Download | Email | Basic Price Computing Scales |
| Astra II PLU Demonstration | View | Download | Email | Basic Price Computing Scales |
| Astra II Scale Management Software | View | Download | Email | Basic Price Computing Scales |
| Astra II Installation and Setup (Interactive) | View | | Email | Basic Price Computing Scales |
| Simple Retail Scale Solutions | View | Download | Email | Retail Equipment |
Astra II Customer-facing Display
Astra II Onboard Ethernet TCP/IP
Astra II PLU Demonstration
Astra II Scale Management Software
Simple Retail Scale Solutions
Parts
| Part # | Description | List Price | Cart |
| --- | --- | --- | --- |
| 185822 | Retail Scale, Astra II Bench, VFD display, 0-30lbs x 0.01, Integrated Printer, 115VAC IshidA | List Price: $1,863.00 | View Cart |
| 185823 | Retail Scale, Astra II Pole, VFD display, 0-30lbs x 0.01, Integrated Printer, 115VAC Ishida | List Price: $1,957.00 | View Cart |
| 190641 | CD,Astra II ScaleLink Pro 5 Lite, license file purchased seperate, Ishida | Call for price | View Cart |
| 190642 | License, Astra II ScaleLink Pro 5 Lite, Maintenance Software, Ishida | List Price: $149.00 | View Cart |
Options
| Part # | Description | List Price | Cart |
| --- | --- | --- | --- |
| 47977 | Retail Scale OPT,Produce Platter 9-1/2 in Deep x 13-1/2 in Wide Ishida | List Price: $82.00 | View Cart |
| 47976 | Retail Scale OPT,Fish Platter 9-1/2 in Deep x 13-1/2 in Wide Ishida | List Price: $104.00 | View Cart |
| 47341 | Receipt Paper,AC Series Thermal Printer 64mm Wide x 50 Meter Roll 1-9/16 Core DIA Sold Per Roll Ishida | List Price: $5.50 | View Cart |
| 184273 | LIT,Manual Astra II TECH Technical | Call for price | View Cart |
| 184270 | LIT,Manual Astra II OP Operation | Call for price | View Cart |
| 184274 | LIT,Manual Astra II OC Operation Quick Reference Card | Call for price | View Cart |
| 47732 | Label,Roll Retail 2 Line UPC 60mm x 44mm (2.36" x 1.73") DTL Small Core 2 Color Red/Blue 800 LPR 12 RPC Ishida | List Price: $93.00 | View Cart |
| 47733 | Label,Roll Retail 2 Line UPC 64mm x 47mm (2.52" x 1.85") DTL Small Core 2 Color Red & Yellow 800 LPR 12 RPC Ishida | List Price: $93.00 | View Cart |
| 47735 | Label,Roll Retail 5 Line Text 64mm x 59mm (2.52" x 2.32") DTL Small Core 2 Color 625 LPR 12 RPC Ishida | List Price: $93.00 | View Cart |
| 47736 | Label,Roll Retail 2 Line Text w/Safe Handling 64mm x 59mm (2.52" x 2.32") DTL 625 LPR Small Core 2 Color 12 RPC Ishida | List Price: $93.00 | View Cart |
| 47743 | Label,Roll Retail Extended Text 64mm x 85mm (2.52" x 3.34") DTL 2 Color 425 - 450 LPR 1-5/8 Core 12 RPC Ishida | List Price: $93.00 | View Cart |
| 47745 | Label,Roll Retail Safe Handling Center 64mm x 85mm (2.52" x 3.34") DTL 2 Color 425 - 450 LPR 1-5/8 Core 12 RPC Ishida | List Price: $93.00 | View Cart |
| 47753 | Label,Roll Retail Label 1 Blank 64mm x 37mm (2.52" x 1.46") 1-5/8 Core 12/Case 1000 LPR Ishida | List Price: $93.00 | View Cart |
| 47754 | Label,Roll Retail Label 2 Blank 64mm x 47mm (2.52" x 1.85") DTL 12/Case 800 LPR 1-5/8 Core Ishida | List Price: $93.00 | View Cart |
| 47762 | Label,Roll Retail 2 Line Non-UPC W/Date 64mm x 37mm (2.52" x 1.46") DTL 2 Color 1000 LPR 1-5/8 Core 12 RPC Ishida | List Price: $93.00 | View Cart |
| 105346 | Label,Roll Retail Blank DTL 64mm x 85mm (2.52 x 3.34) Small Core 425 LPR 12 RPC Ishida | List Price: $93.00 | View Cart |