Is the website displaying in the correct language? Please confirm or select a different language.
Gold Standard Calibration
To be sold in gold bullion trade markets, gold bars must be weighed with absolute precision. Rice Lake Weighing Systems worked with scale dealer Balance GTR Inc. to create custom calibration weights, helping a refinery meet strict trade standards.
Every day, billions of dollars in gold is bought and sold through trade markets. The industry includes everyone from investors to precious metal byproduct refineries who all must follow Good Delivery standards.
By Author: Samantha Foss
Publish Date: 03/27/2019
Refining Copper to Get Gold Bullion
Unfortunately, it is not as easy to find gold as it was during the days of the North American gold rush. Today's gold mining requires expensive technology and equipment, which is why gold is more commonly harvested as a byproduct of base metal refining. Copper refineries receive 98 to 99 percent pure copper, which must be refined into 99.99 percent pure copper by the time it leaves the refinery.
This is done by subjecting crude copper to a process called electrorefining, during which copper plates are submerged in a chemical bath and exposed to an electric current over a period of time to slowly become more refined.
At the end of the electrorefining process, 99.99 percent pure copper plates are removed from the chemical bath, leaving behind mud containing gold, silver and other precious metals. The mud goes through a series of processing steps in order to extract gold as pure gold sand, which is melted and cast into ingots.
Next, the ingots are polished, stamped and weighed prior to shipment. The weighing process requires ultimate precision and the scales must be regularly verified against a certified test weight.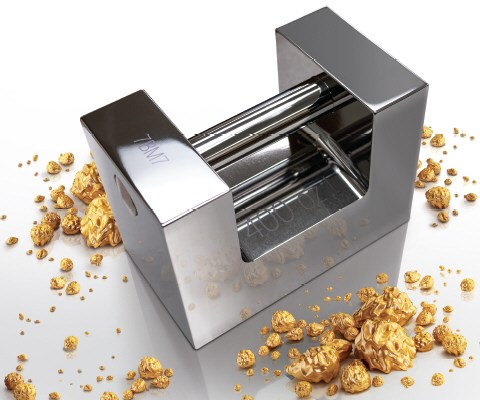 Gold Bullion Trade Markets and Good Delivery Standards
Copper refineries with precious metal byproducts need to meet strict standards for gold bars being sold. The London Bullion Market Association (LBMA) ensures fairness for those parties through Good Delivery standards for gold, but LBMA does not control the actual gold trading. Good Delivery of gold bullion requires bullion to meet an exacting set of standards. Every LBMA member must meet the strict standards of Good Delivery to participate in trading.
When Good Delivery gold bars are weighed by an electronic scale, the scale must be calibrated by a 400 troy ounce, stainless steel OIML Class F1 weight. A troy ounce is used specifically for weighing precious metals and is slightly heavier than a regular ounce. Good Delivery standards also require the uncertainty of calibration measurement to be less than 0.05 grams. Because it does not corrode easily, high-quality stainless steel is used for Good Delivery calibration weights, ensuring consistently accurate calibrations.
Balance GTR Inc., a Quebec-based scale company offering specialized weighing equipment, knew Rice Lake Weighing Systems could create a customized plan to ensure Good Delivery calibration requirements were met for their specialized process.
Rice Lake's manufacturing crew and metrology lab teamed up to make 400 troy ounce, stainless steel OIML Class F1 weights according to LBMA Good Delivery specifications.
These custom grip-handle weights are used to verify the gold bullion scale, sold by Rice Lake Weighing Systems, before and after weighing gold bars. Etched serial numbers on the calibration weights provide traceability.
With the help of Rice Lake Weighing Systems' skilled manufacturing and metrology teams, Balance GTR Inc. was able to provide gold standard calibration weights, ensuring Good Delivery requirements were met.
Subscribe to Rice Lake Magazine
Sign in or create a Rice Lake website account to request a Rice Lake Magazine filled with application stories like this one be sent to you.
Account Sign In
Create an Account