Is the website displaying in the correct language? Please confirm or select a different language.

Follow the steps below to ensure proper functionality. Firmware updates are unique for each version and must be completed using a specific sequence. Please contact technical support for questions regarding this process.

Ensure an update is needed for your application.
If your existing 1280 application is working well for your process,
you may not need to upgrade firmware. Please read the feature summary below and contact
your authorized dealer to determine if a firmware update is needed. 
New Features in v2.00.00

Create Emailed Tickets
For added convenience, cost savings and reduced waste, use the 1280's dual port destinations
to print and/or email a weight ticket. Email documentation rather than printing
(or in addition to) for streamlined digital record-keeping.

iQUBE2 Setup Wizard
Visually walks technicians through configuration step by step.
This is in response to customer requests and enables applications
to be set up faster and more intuitively.

Optimized SPI Protocols
Fine-tuned serial peripheral interface (SPI) commands
make data transfer between the 1280 and its option cards more efficient.
For a complete summary of the newest features in the 1280 v2.0 firmware,
read 1280 v2.0 Feature Highlights.


---

Determine what version of 1280 firmware is running on your programmable weight indicator. 
Access Configuration mode: the firmware version is displayed on the bottom of the screen.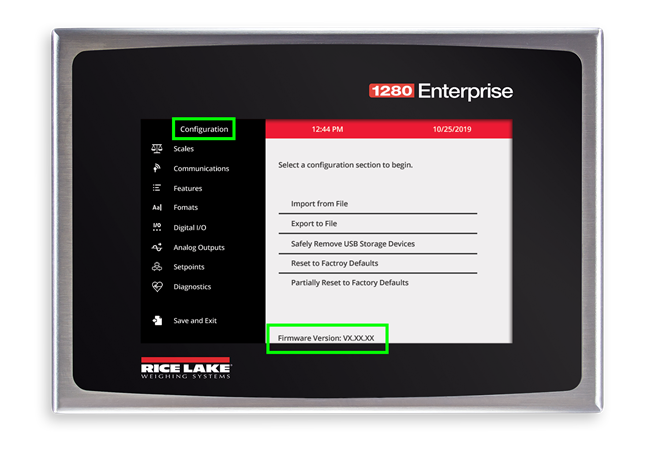 ---


Factory upgrades are required for some option cards. 
An authorized dealer can evaluate installed option cards to determine
if a field-upgrade is available or if an RMA is required.
Failure to properly update option cards will result in a non-functioning system.
While in v1.11 (or later) enter the "DUMP/VERSIONS" command
to review the installed option card version. 
---

Updating from CPU board PN 160757:
select the firmware range and follow the steps below 
If updating from a replacement CPU board, PN 194982, skip to step 5. 

Failure to properly follow the update steps will result in corruption to the 1280 controller/weight indicator.
---

Updating from a replacement CPU board PN 194982

Failure to properly follow the update steps will result in corruption to the 1280 Indicator