Is the website displaying in the correct language? Please confirm or select a different language.

Scrap/Recycling
From waste inventory tracking and maintenance to waste disposal and sustainable initiatives, Rice Lake's weighing and process-control equipment helps improve overall efficiency.
Scrap and Recycling Demand Durability
When it comes to the scrap and recycling industries, strength, durability and accurate performance are key qualities to ensure long-lasting weighing equipment in demanding environments. Rice Lake offers a broad selection of heavy-duty products ideal for material handling and scrap/recycling processing applications. From our rugged rail scales and tough truck scales to our intuitive indicators/controllers, Rice Lake products provide solutions to lower inefficiencies in scrap and recycling operations, and ultimately, lift profits. 
Rice Lake onboard weighing systems for roll-off trucks and garbage packers streamline the scrap hauling process by bringing the scale to the product. With a variety of solutions for straight-truck, semi-trailer, tipping and roll-off trucks, Rice Lake onboard systems offer versatility for many forms of scrap-hauling. Paired with cab-mounted digital weight displays, onboard weighing systems allow operators to record load data accurately with confidence.
For scrap hauling and transfer stations, Rice Lake SURVIVOR® truck scales provide extreme durability and unbeatable accuracy. Rice Lake has developed several models of Legal for Trade truck scales ideally suited for the scrap and recycling industries—there is a SURVIVOR truck scale to fit the operation, or Rice Lake will custom-build it. The OTR steel or concrete deck models can be installed aboveground or as a pit-type, and with Rice Lake's patented G-Force™ suspension system, SURVIVOR scales self-check, eliminating the need for check rods and bumper bolts.
Improve Safety, Efficiency and Automation
Paired with SURVIVOR truck scales, Rice Lake's automated ticketing systems (ATS) and kiosks improve more than just speed and vehicle throughput—an ATS keeps drivers in their cabs, enhancing safety for all. Optional ATS and truck scale accessories for scrap and recycling stations include printers, traffic lights, barrier gates and messaging and remote displays.
Rice Lake's indicators/controllers are smart, fast and built with the user's process in mind. When a scrap/recycling enterprise's business depends on measuring incoming and outgoing material, an accurate weight reading is paramount. Rice Lake offers indicators and controllers that provide not only remarkably accurate weight readouts, but also intuitive programmability and the ability to record data, automate applications, print customer tickets and more.
RailBoss™, Rice Lake's affordable and versatile railroad scale, is the ideal solution for scrap and recycling yards that can't afford the space, time and cost of a conventional rail scale, but need to accurately measure the total gross weight of rail cars. Less than one-third the cost of traditional rail scales and with an eight hour installation time, RailBoss fits in the scrap yard and the budget.
Rice Lake's SURVIVOR RT pit-type and PL modular-type railroad scales are Legal for Trade and combine robust features with incredible accuracy to weigh capacities over 200 tons, standing up to the weight of the heaviest scrap metal and recycling loads.
In scrap and recycling facilities, weight can be the driving factor behind business. From massive onsite scrap metal transfer stations with truck and rail scales to the ticket that prints the load readout, strength, durability and accurate performance are the strongest factors in scrap and recycling equipment, and they're qualities Rice Lake stands by.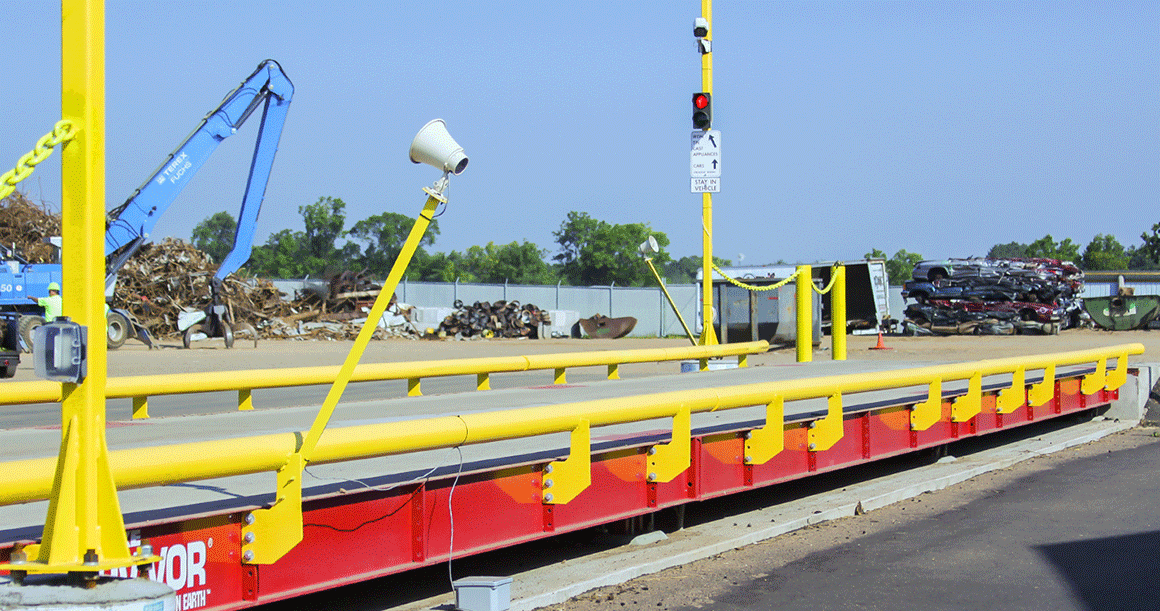 Subscribe to Rice Lake Magazine
Sign in or create a Rice Lake website account to request a Rice Lake Magazine filled with application stories like this one be sent to you.
Account Sign In
Create an Account