Is the website displaying in the correct language? Please confirm or select a different language.
CLS Series Forklift Scale
Scale Carriage
28 in (Class II), 5,000 × 5 lbs, NTEP Certified
34 in (Class II), 5,000 × 5 lbs, NTEP Certified
38 in (Class III), 8,000 × 5 lbs, non-NTEP
1-1/2 in thick front and back painted steel plates coupled by four flexures
Top cleats are welded, pinned and bolted
Welded centering pin
Two 5,000 lb s-beam load cells
iQUBE2® junction box with inclinometer
Molded coiled cable, up to 15 ft uncoiled
Presale Requirements
Provide completed forklift questionnaire for quotation
Compatible with most Class II and Class III forklift attachments, consult factory
Forklift carriage size (Class II, Class III, other)
Forklift carriage width (is it greater than 36 in?)
Does the forklift have a load backrest?
Does the forklift have any existing attachments?
Supply power for scale instrumentation (12 VDC, other)
Installation Recommendations
When installing a forklift scale on an electric forklift, static discharge protection must be present on the forklift and install a chassis mount power conditioner to protect scale electronics.
When installing a forklift scale, OSHA requires the end user to de-rate the lift capacity of the forklift.
Approvals
Some approval documents are available to view by clicking the icons below.

WARNING: Cancer and Reproductive Harm California Proposition 65
Lift Profits, Lower Logistics Expenses
The CLS Series forklift scale mounts directly to most Class II and Class III forklifts, saving material handling processes time and money. The CLS can be paired with a device for weight display through a cable or cableless connection. The weight display can either be a Rice Lake Weighing Systems indicator designed for the CLS or virtually through a device that supports the VIRTUi3 software application. For connection to peripheral equipment, there is also optional USB, Bluetooth and Wi-Fi connection available.
Warranty:
Two-year limited
Approvals:
NTEP CC 06-074 Class III, 5,000 x 5
Measurement Canada AM-5893,
Class III, 4,500 x 5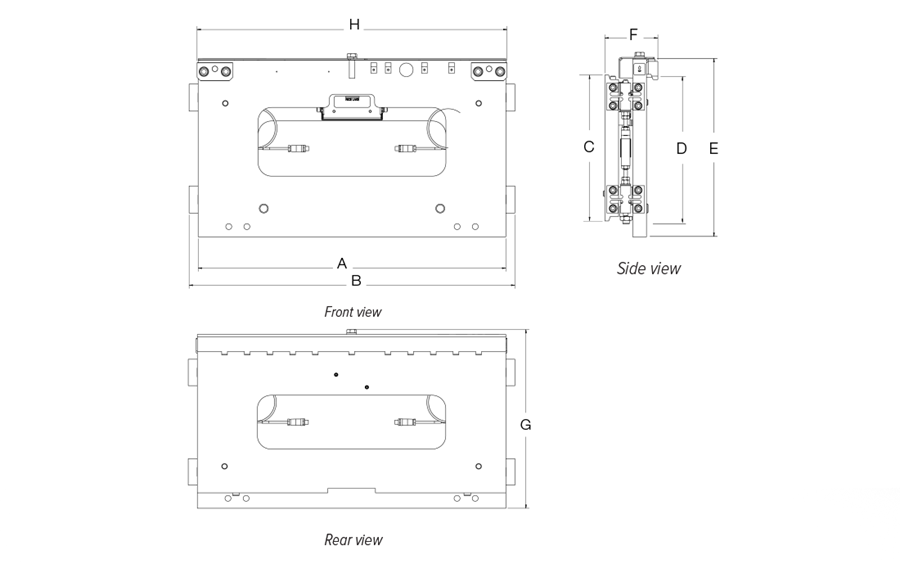 CLS Dimensions Class II
28 in, 5,000 lb
A
28.00 in (711 mm)
E
19.50 in (495 mm)
B
30.00 in (762 mm)
F
4.49 in (114 mm)
C
16.00 in (406 mm)
G
21.80 in (554 mm)
D
16.29 in (414 mm)
H
28.24 in (717 mm)
34 in, 5,000 lb
A
34.00 in (864 mm)
E
19.50 in (495 mm)
B
36.00 in (914 mm)
F
4.49 in (114 mm)
C
16.00 in (406 mm)
G
21.80 in (556 mm)
D
16.29 in (413 mm)
H
34.24 in (870 mm)
CLS Dimensions Class III
38 in, 8,000 lb
A
38.00 in (965 mm)
E
24.50 in (622 mm)
B
40.00 in (622 mm)
F
6.04 in (153 mm)
C
20.00 in (508 mm)
G
26.68 in (678 mm)
D
20.15 in (512 mm)
H
38.00 in (965 mm)
CLS-680
The CLS-680 was designed from the ground-up specifically for forklift applications. With a machined aluminum anodized enclosure, the CLS-680 is ideal for demanding, general-purpose forklift applications. Its compact size is attached with a RAM® mount for flexible positioning and minimal obstruction. Additional features include rounded corners, vibration protection and surge suppression.
Machined aluminum enclosure with anodized finish
Six-digit, seven-segment LED display
Battery backed time & date
On/Off power switch
9 to 36 VDC power supply
Cabled or cable-less
RS-232 serial port
Wi-Fi
Bluetooth®
CLS-920i
The CLS-920i is a version of the 920i specifically designed for the CLS. It incorporates the flexibility, intelligence and programmability of the 920i in a smaller enclosure with a DC power supply for use on forklifts. The standard program offers weight indication, configuration, calibration and diagnostics specific to the CLS. Customize it for your application with an optional user program.
Painted mild steel enclosure
Backlit graphical LCD display
Battery backed time and date
On/Off power switch
10 to 60 VDC power supply
Cabled or cable-less
Two available RS-232 ports for added options
Optional Wi-Fi
Optional Bluetooth®
VIRTUi3
Weight data is displayed on a device using VIRTUi3 software, creating a virtual indicator. The CLS connects to your device using RS-232, USB or Bluetooth®. Choose between the CLS-M or CLS-IM configuration for static or in-motion use.
Weight indication device (PC/tablet) is not included.
Consult factory to verify compatibility with your device.
Bluetooth® connection available
USB connection available
Cableless
The cableless option removes the coiled communication/power cable between the scale and the indicator. A rechargeable battery is secured to the scale and it powers the scale and the paired wireless modules provide communication.
802.15 wireless interface
Lithium-ion battery and charger
On/Off power switch
Battery life: 24 hours of constant use
Battery recharge time: 8 hours to fully recharge
Reinforced battery box welded to top cover
Wi-Fi
Wi-Fi is a standard feature for the CLS-680 and is available as a factory installed option for the CLS-920i.
Wireless LAN card 802.11 B/G
Range: Up to 328 ft indoors
Operating frequency: ISM 2.4 GHz
Bluetooth®
Bluetooth® communication is a standard feature for the CLS-680 and is available as an external option for the 920i. It is also available in a communications/power box for the virtual solution.
During the initial scale installation, remind the customer that they must have an updated ID plate on the forklift stating the new lifting capacity and center of gravity information. This is required per OSHA rules and regulations.
| . | 28 Inch | 34 Inch | 38 Inch |
| --- | --- | --- | --- |
| Vertical center of gravity (VCG) of scale = | 8.06 | 8.06 | 10.15 |
| Horizontal center of gravity (HCG) of scale = | 2.09 | 2.09 | 2.83 |
| Effective thickness (ET) of scale = | 4.55 | 4.55 | 6.06 |
| Weight of scale = | 392 | 420 | 987 |
Resources / Downloads
| Title | Version | Revision | Download | Email | Category | Archived |
| --- | --- | --- | --- | --- | --- | --- |
| CLS Series Forklift Scale Installation Manual | | A | Download | Email | Forklift|CLSM Landing Page | No |
| Cargo Lift Scale Series Wired to Wireless Conversion Instructions Addendum | | B | Download | Email | Forklift | No |
| CLS-Series Service Manual | | A | Download | Email | Forklift | No |
Parts
| Part # | Description | List Price | Cart |
| --- | --- | --- | --- |
| 201300 | Scale PKG,CLS-680 5000lb Capacity, Class II, 34", Wired, 9-36VDC, WiFi/Bluetooth, RAM Mount, Mode 600, 5000x5lb NTEP | List Price: $8,710.00 | View Cart |
| | | Call for price | View Cart |
Options
| Part # | Description | List Price | Cart |
| --- | --- | --- | --- |
| 166161 | Power Line Filter, CLS DC EMI FIlter, 0-75 VDC input voltage, 100 Vdc surge. | List Price: $110.00 | View Cart |
| 167498 | Cable,Extension 2 Meters 125395 Coiled Cable Extension, Straight, Molded Turk PN BSM BKM 5-084-2 | List Price: $200.00 | View Cart |
| 188193 | CLS Calibration Hook Set | List Price: $270.00 | View Cart |
| 120160 | Weight, 1000lb Forklift Testing 22-1/2 x 46-1/4 Rectangle Steel Class 6 | List Price: $2,650.00 | View Cart |
| 120162 | Weight, 2000lb Forklift Testing 22-1/2 x 46-1/4 Rectangle Steel Class 6 | List Price: $7,875.00 | View Cart |
| Consult | 28 in wide scale base for Class II carriage instead of 34 in Class II scale base | Call for price | View Cart |
| Consult | 38 in wide scale base for Class III carriage instead of 34 in Class II scale base (Non NTEP certified) | Call for price | View Cart |
| Consult | Cableless option, order upgrade that also includes two batteries and charger | Call for price | View Cart |
| Consult | Bluetooth Option for CLS-680 | Call for price | View Cart |
| Consult | Bluetooth Option for CLS-920i | Call for price | View Cart |
| Consult | Bluetooth Option for VIRTUi CLS-M/IM | Call for price | View Cart |
| Consult | WiFi option for CLS-680 | Call for price | View Cart |
| Consult | WiFi option for CLS-920i | Call for price | View Cart |