Is the website displaying in the correct language? Please confirm or select a different language.
CLS-920i Forklift Scale Display
LCD display
Standard program 

Weight indication
Configuration
Calibration
Diagnostics

Front panel calibration
On/Off switch to conserve forklift battery life
Painted mild steel enclosure
Two-piece top cage indicator mounting assembly with vibration mounts
Two available RS-232 ports for added options of scanner, Wi-Fi or printer
10 to 60 VDC power supply for use on gas powered or electric forklifts
Note: For custom user program, please contact the factory
Approvals
Some approval documents are available to view by clicking the icons below.

WARNING: Cancer and Reproductive Harm California Proposition 65
Flexibility. Intelligence. Programmability.
The CLS-920 is a version of the 920i specifically designed for the CLS forklift scale. It incorporates the flexibility, intelligence and programmability of the 920i in a smaller enclosure with a DC power supply for use on forklifts. The standard program offers weight indication, configuration, calibration and diagnostics specific to the CLS. Customize it for your application with an optional user program.
Power:
Line voltage: 10 to 60 VDC, DC input

Power Consumption:
1.5 A max fused at 5.0

Temperature Range:
Certified: 14 °F to 104 °F (-10 °C to 40 °C)
Operating: 14 °F to 122 °F (-10 °C to 50 °C)

Wireless LAN Option:
Contains FCC ID: R68WIPORATG
Range: Up to 328 ft indoors
Operating frequency: ISM 2.4 GH

Warranty:
Two-year limited

Approvals:
NTEP CC 06-074, 5,000 lb only, Class III, 1,000d
Measurement Canada AM-5893, Class III
Dimensions
A
9.5 in (242 mm)
B
7.2 in (183 mm)
C
9.7 in (247 mm)
D
5.8 in (148 mm)
Resources / Downloads
Parts
| Part # | Description | List Price | Cart |
| --- | --- | --- | --- |
| 162282 | Scale PKG,CLS920i,iQube2 34in.,Wired,5,000lb,10-60VDC With Turck Connect Load Cells | List Price: $9,510.00 | View Cart |
| Consult | Consult factory for CLS-920i package for forklift sizes other than 34 in x 16 in | Call for price | View Cart |
Options
| Part # | Description | List Price | Cart |
| --- | --- | --- | --- |
| 166161 | Power Line Filter, CLS DC EMI FIlter, 0-75 VDC input voltage, 100 Vdc surge. | List Price: $110.00 | View Cart |
| 167498 | Cable,Extension 2 Meters 125395 Coiled Cable Extension, Straight, Molded Turk PN BSM BKM 5-084-2 | List Price: $200.00 | View Cart |
| 188193 | CLS Calibration Hook Set | List Price: $270.00 | View Cart |
| Consult | Wi-Fi option for CLS-920i | Call for price | View Cart |
| Consult | Bluetooth Option for CLS-920i, CLS-M, CLS-IM | Call for price | View Cart |
| Consult | Cableless option, order upgrade that also includes two batteries and charger | Call for price | View Cart |
| Consult | DC to DC converter, chassis mount | Call for price | View Cart |
Replacement Parts
Replacement parts can only be purchased through trained and authorized dealers. You must be logged in as a dealer to view any available replacement parts.
To locate a dealer in your area, please call us at 1-800-472-6703 or fill out a request online.
Related Products
CLS Series Forklift Scale
The CLS Series forklift scale mounts directly to most Class II and Class III lift trucks, saving material handling processes time and money. The CLS can be paired with a device for weight display through a cable or cableless connection.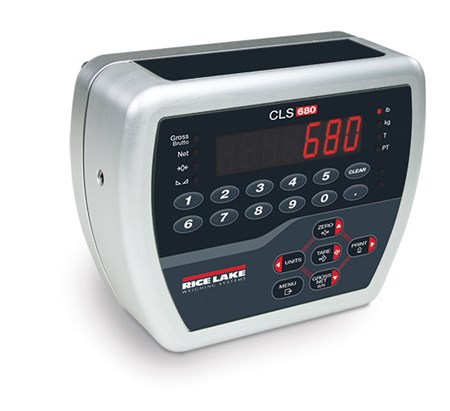 CLS-680 Forklift Scale Display
The CLS-680 was designed from the ground-up specifically for forklift applications. With a machined aluminum anodized enclosure, the CLS-680 is ideal for demanding, general-purpose forklift applications.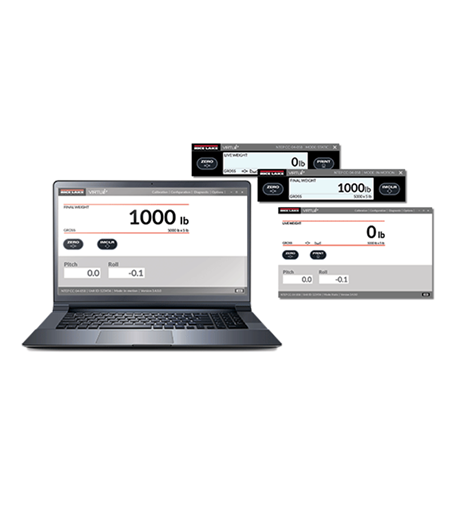 VIRTUi®3 PC-Based Program for CLS Series Forklift Scale
VIRTUi³ is a Windows®-based application that works with Rice Lake Weighing's CLS Series forklift scale to replicate indicator functionality ideal for those wanting to provide a PC-based solution.