Is the website displaying in the correct language? Please confirm or select a different language.

Agriculture
Turn investment into profit—Rice Lake's agriculture products make a measurable difference in farming and agricultural applications.
A Measurable Difference
With a proven reputation for turning investment into profit, Rice Lake's agriculture products make a measurable difference in farming and agricultural applications. From stationary, portable and mobile livestock scales to digital weight indicators, utility truck scales and farm load cell bars, Rice Lake products help maximize agriculture investments—all while keeping safety, quality and performance at the forefront.
Rice Lake has tailored some of our most durable products to meet the specific needs of the farming and agriculture industry. Our livestock scales are perfectly suited for the toughest jobs around. Combine the most durable weighbridge design with full U.S. and Measurement Canada NTEP approval, and Rice Lake delivers the most durable livestock scales in the industry.
Weighing Livestock
Our MAS-M mobile group animal scale is the industry's only Legal for Trade mobile livestock scale. Its design consists of a rubberized deck and pen sides suspended on load cells within a mobile base frame. This scale is ideal for farmers and ranchers who prefer to hitch the scale and drive it to pasture to weigh cattle. With its Legal for Trade certification, ranchers can use the scale for point-of-sale transactions. The MAS-M holds anywhere from 15 to 20 head at a time, and ranchers can expect to recover an average of five to six percent of their profits from less shrink loss.
Rice Lake also offers the MAS-P portable livestock scale and the MAS-LC and MAS-LM stationary livestock scales, durable enough for the demands of farm-strong operations. With options including mechanical pipe-lever systems to customizable retrofits, Rice Lake livestock scales are tough, versatile and Legal for Trade.
For a variety of weighing tasks around the farm or ranch, Rice Lake's Farm Bars™ offer a multi-purpose, complete weighing system that will provide years of trouble-free service. Farm Bars are ideal for mounting under cattle squeeze chutes, hog crates, feed hoppers or custom platforms for weight verification needs.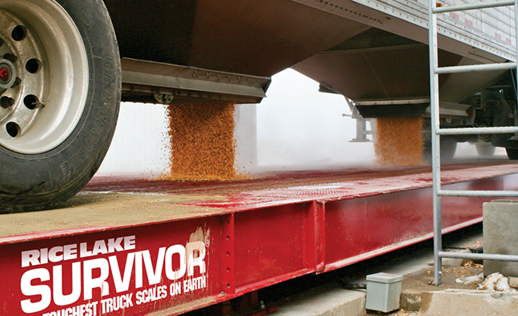 Rugged Truck Scales
For heavier farm weighing, the SURVIVOR® AG Livestock/Agriculture Utility Scale packs the performance of a SURVIVOR truck scale into a mid-size, mid-duty frame. Best suited for livestock and farm vehicle weighing applications, the SURVIVOR AG is Legal for Trade up to 30,000 pounds at full scale capacity in five-pound increments.
For heavy-duty agriculture vehicle weighing needs, SURVIVOR OTR truck scales with grain dumps can be custom-made to fit existing material handling equipment onsite. Able to keep up with any bottom or rear discharge truck body, the SURVIVOR OTR is clean, efficient, durable and Legal for Trade.
Equipment that Works as Hard as You Do
In farm and ranch applications, weight plays an important role, from point-of-sale livestock weighing and weight verification in a cattle squeeze chute to crop-hauling truck and tractor weighing. Rice Lake's livestock and agriculture solutions help farmers and ranchers improve their processes while maximizing their agriculture investment with durable, dependable and strong weighing equipment that hold up to their return-on-investment promise.
Subscribe to Rice Lake Magazine
Sign in or create a Rice Lake website account to request a Rice Lake Magazine filled with application stories like this one be sent to you.
Account Sign In
Create an Account