Is the website displaying in the correct language? Please confirm or select a different language.
SURVIVOR® OTR Steel Deck Truck Scale
Open bottom design
Longitudinal I-beam construction
Integrated load cell pockets
Boltless, top access to load cells and junction box
Self-seating, P-bracket connection between modules
G-force mount assemblies return the scale to center without check rods or bumper bolts
Cables completely encased in rodent-proof conduit
Thorough finishing process includes cleaning of steel before and after welding, followed by either high solids urethane liquid paint or durable powder paint
Options
10 lb division for truck or livestock
20 lb division
1/2, 3/8, or 1-inch deck plate upgrade
Schedule 40 guiderails
Schedule 80 guiderails
Manhole
Slotted manhole
Grain dump
Dolly down plate
End cleanout
Integrate manhole ladder
Stainless steel load cells
Tapered links and radius blocks
Pre-suspended load cells and mounts
Stainless steel suspension hardware
Galvanized weighbridge and suspension hardware
Custom coatings
3/8-inch runners
Roll-off
Side deflector plates
Catwalk
Landing with stairs
iQUBE2® digital diagnostic junction box bundles
Approvals
Some approval documents are available to view by clicking the icons below.



WARNING: Cancer and Reproductive Harm California Proposition 65
Uncompromising SURVIVOR Strength
Selecting a steel deck truck scale means choosing a long-lasting, quick-to-install scale. The SURVIVOR OTR steel deck is designed to reduce downtime by simplifying installation and maintenance.
Reliable Steel Deck Design
SURVIVOR scales incorporate more longitudinal beams than other manufacturers to better support the weighbridge and ensure structural stress remains below fatigue limits during deflection. This design supports vehicle tires across the entire weighbridge deck.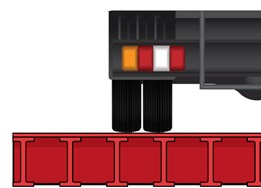 Competitor Designs
Most other manufacturers use fewer I-beams or bent-channel beams to reduce the initial scale cost. However, these designs reduce structural integrity, causing greater deflection—shortening the lifespan of the weighbridge. Additionally, some designs require top and bottom deck plates, trapping corrosion-causing moisture inside the weighbridge.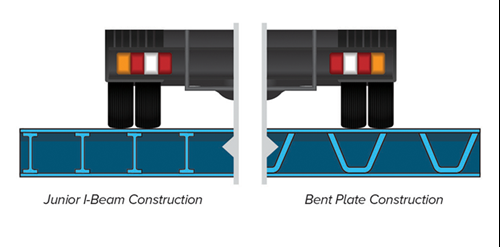 Load Cells:
Rice Lake RL75058-LP alloy steel,
Double-ended beam
75,000 lb capacity

Mount Assemblies:
G-force self-checking mounting system

Junction Box:
JB8SPT Tuffseal® polycarbonate NEMA Type 4X enclosure with overlapping solid cover, stainless steel screws

Platform Size:
10 to 160 ft length
10 ft, 11 ft and 12 ft width, NTEP Certified up to 16.5 ft
(custom length and width available)

Scale Profile:
16.5 in or 18.75 in
(custom profiles available)

Deck Thickness:
5/16 in
(other sizes available)

Full Scale Capacity:
Up to 270,000 lb

Concentrated Load Capacity (CLC):
100,000 lb

Dual Tandem Axle (DTA):
100,000 lb

Warranty:
Weighbridge: 5-year or 12-year limited
Parts: 5-year or 12-year limited, including lightning protection

Approvals:
NTEP 02-003, Class IIIL
Measurement Canada AM-5413

| Width | A | B | C |
| --- | --- | --- | --- |
| 10 ft | 9 ft 10-1/2 in | 10 ft 1-1/2 in | 10 ft 10-1/2 in |
| 11 ft | 10 ft 10-1/2 in | 11 ft 1-1/2 in | 11 ft 10-1/2 in |
| 12 ft | 11 ft 10-1/2 in | 12 ft 1-1/2 in | 12 ft 10-1/2 in |

| Width | A | B | C |
| --- | --- | --- | --- |
| 10 ft | 9 ft 10-1/2 in | 10 ft 2-1/8 in | 11 ft 1-1/8 in |
| 11 ft | 10 ft 10-1/2 in | 11 ft 2-1/8 in | 12 ft 1-1/8 in |
| 12 ft | 11 ft 10-1/2 in | 12 ft 2-1/8 in | 13 ft 1-1/8 in |

| Profile | Clearance Under Scale |
| --- | --- |
| 16.50 in | 4.19 in |
| 18.75 in | 6.44 in |
| 20.75 in | 8.44 in |
| 24.00 in | 11.69 in |
Resources / Downloads
| Title | View | Download | Email | Category |
| --- | --- | --- | --- | --- |
| Truck Scale Sales Video | View | Download | Email | Truck Scales |
| Rice Lake SURVIVOR® Truck Scale Advantages | View | Download | Email | Truck Scales |
| SURVIVOR OTR Grain Dump Application | View | Download | Email | Truck Scales |
| SURVIVOR OTR Truck Scale Waste Transfer Station Application | View | Download | Email | Truck Scales |
| SURVIVOR Truck Scale Installation Walkthrough | View | Download | Email | Truck Scales |
| SURVIVOR® OTR Truck Scale in Action: 360° VR Video | View | | Email | Truck Scales |
| SURVIVOR® Truck Scale Undercoating and Powder Coating Process: 360° VR Video | View | | Email | Truck Scales |
| Weighing Solutions for the Agriculture Industry | View | Download | Email | Agriculture |
| Weighing Solutions for the Energy Industry | View | Download | Email | Truck Scales |
| Weighing Solutions for the Forestry Industry | View | Download | Email | Truck Scales |
| Single-Point Grounding: Part 1 | View | Download | Email | Truck Scales |
| Single-Point Grounding: Part 2 | View | | Email | Truck Scales |
| Single-Point Grounding: Part 3 | View | | Email | Truck Scales |
| Truck Scale Grounding | View | | Email | Truck Scales |
Rice Lake SURVIVOR® Truck Scale Advantages
SURVIVOR OTR Grain Dump Application
SURVIVOR OTR Truck Scale Waste Transfer Station Application
SURVIVOR Truck Scale Installation Walkthrough
SURVIVOR® OTR Truck Scale in Action: 360° VR Video
SURVIVOR® Truck Scale Undercoating and Powder Coating Process: 360° VR Video
Weighing Solutions for the Agriculture Industry
Weighing Solutions for the Energy Industry
Weighing Solutions for the Forestry Industry
Parts
| Part # | Description | List Price | Cart |
| --- | --- | --- | --- |
| 63174 | Truck Scale,10x10 OTR ST Steel Deck SURVIVOR OTR Model EZ1010-ST-60-OTR 100,000lb CLC, 120,000lb Capacity, 2-Section, 5/16 Top Plate | Call for price | View Cart |
| 96703 | Truck Scale, 12x10 OTR ST Steel Deck SURVIVOR OTR Model EZ1210-ST-60-OTR 120,000 lb Capacity, 90,000 lb CLC, 2-Section, 5/16 Top Plate | Call for price | View Cart |
| 86272 | Truck Scale, 15x10 OTR S Steel Deck SURVIVOR OTR Model EZ1510-ST-60-OTR 100,000lb CLC, 120,000lb Capacity, 2-Section, 5/16 Top Plate | Call for price | View Cart |
| 63175 | Truck Scale,20x10 OTR ST Steel Deck SURVIVOR OTR Model EZ2010-ST-60-OTR 100,000lb CLC, 120,000lb Capacity, 2-Section, 5/16 Top Plate | Call for price | View Cart |
| 63176 | Truck Scale,24x10 OTR ST Steel Deck SURVIVOR OTR Model EZ2410-ST-60-OTR 100,000lb CLC, 120,000lb Capacity, 2-Section, 5/16 Top Plate | Call for price | View Cart |
| 71978 | Truck Scale,30x10 OTR ST Steel Deck SURVIVOR OTR Model EZ3010-ST-60-OTR 100,000lb CLC 120,000lb Cap 2 Section, 5/16 Top Plate | Call for price | View Cart |
| 63177 | Truck Scale,40x10 OTR ST Steel Deck SURVIVOR OTR Model EZ4010-ST-100-OTR 100,000lb CLC, 200,000lb Capacity, 3-Section, 5/16 Top Plate | Call for price | View Cart |
| 63178 | Truck Scale,47x10 OTR ST Steel Deck SURVIVOR OTR Model EZ4710-ST-100-OTR 100,000lb CLC, 200,000lb Capacity, 3-Section, 5/16 Top Plate | Call for price | View Cart |
| 96706 | Truck Scale, 50x10 OTR ST Steel Deck SURVIVOR OTR Model EZ5010-ST-100-OTR 200,000 lb Capacity, 90,000 lb CLC, 3-Section, 5/16 Top Plate | Call for price | View Cart |
| 63179 | TS, 60x10 OTR STEEL Deck SURVIVOR Model EZ6010-ST-100-OTR 100,000lb CLC, 200,000lb Capacity, 4-Section, Standard Profile, 5/16 Top Plate (59ft10-1/2 x 9ft10-1/2) | Call for price | View Cart |
| 63206 | Truck Scale,70x10 OTR ST Steel Deck SURVIVOR OTR Model EZ7010-ST-100-OTR 100,000lb CLC, 200,000lb Capacity, 4-Section, 5/16 Top Plate | Call for price | View Cart |
| 212354 | TS,72x10 OTR Steel Deck SURVIVOR Model EZ7210-ST-100-OTR 100,000lb CLC, 200,000lb Capacity, 4 Section, 16-1/8in Profile, 5/16 Top Plate, Centurian Load Cell Centers (72ft0x10ft0) | Call for price | View Cart |
| 86273 | Truck Scale, 75x10 OTR S Steel Deck SURVIVOR OTR Model EZ7510-ST-100-OTR 100,000lb CLC, 200,000lb Capacity, 4-Section, 5/16 Top Plate | Call for price | View Cart |
| 63180 | Truck Scale,80x10 OTR ST Steel Deck SURVIVOR OTR Model EZ8010-ST-100-OTR 100,000lb CLC, 200,000lb Capacity, 5-Section, 5/16 Top Plate | Call for price | View Cart |
| 63181 | Truck Scale,93x10 OTR ST Steel Deck SURVIVOR OTR Model EZ9310-ST-100-OTR 100,000lb CLC, 200,000lb Cap, 5 Section, 5/16 Top Plate | Call for price | View Cart |
| 63182 | Truck Scale,100x10 OTR ST Steel Deck SURVIVOR OTR Model EZ10010-ST-100-OTR 100,000lb CLC, 200,000lb Capacity, 6-Section, 5/16 Top Plate | Call for price | View Cart |
| 63183 | Truck Scale,117x10 OTR ST Steel Deck SURVIVOR OTR Model EZ11710-ST-100-OTR 100,000lb CLC, 200,000lb Capacity, 6-Section, 5/16 Top Plate | Call for price | View Cart |
| 153671 | Truck Scale,120x10 OTR ST Steel Deck SURVIVOR OTR Model EZ12010-ST-100-OTR 100,000lb CLC, 200,000lb Capacity 7-Section w/ 5/16 Top Plate | Call for price | View Cart |
| 87956 | Truck Scale,140x10 OTR ST Steel Deck SURVIVOR OTR Model EZ14010-ST-100-OTR 100,000lb CLC 200,000lb Capacity 8 Section, w/ 5/16 Top Plate. | Call for price | View Cart |
| 170118 | Truck Scale, Mod D, 10ft wide x 30 ft long low profile, 5/16 Top Plates 2 section, 14 in. profile C15 Channels & Bumper with Angle around perimeter Bumper Bolt Each End, Opposite Side J-box EZ3010-Rolloff | Call for price | View Cart |
| Consult | Truck Scale,90x10 OTR ST Steel Deck SURVIVOR OTR Model EZ9010-ST-100-OTR 100,000lb CLC, 200,000lb Capacity 5-Section w/5/16 Top Plate | Call for price | View Cart |
| Consult | TS,110x10 OTR Steel Deck SURVIVOR OTR Model EZ11010-ST-100-OTR 100,000lb CLC, 200,000lb Capacity 6 Section, Standard Profile, 5/16 Top Plate, 20ft A module, 23ft4 B 3 ea, 20ft C (109FT10-1/2x9FT10-1/2) EZ11010-ST-100-OTR | Call for price | View Cart |
| 88525 | TS,130x10 OTR STEEL DECK SURVIVOR OTR Model EZ13010-ST-100-OTR 100,000lb CLC, 200,000lb Capacity 7-Section, Standard profile, 5/16 Top Plate, 3-23ft4 A,B,C Mods & 3-20ft B Mods(129FT10-1/2x9FT10-1/2) | Call for price | View Cart |
| 152130 | Truck Scale,150x10 OTRST Steel Deck SURVIVOR OTR Model EZ15010-ST-100-OTR 100,000lb CLC, 200,000lb Capacity, 7-Section, 5/16 Top Plate | Call for price | View Cart |
| 90900 | TS, 160x10 OTR Steel Deck SURVIVOR Model EZ16010-ST-100-OTR 100,000 CLC, 200,000 lb Capacity, 8 Section, Standard Profile 5/16 Top Plate, 6ea. 23ft4in Modules And 1ea. 20ft C Module (159FT10-1/2x9FT10-1/2 | Call for price | View Cart |
SURVIVOR® Truck Scale Advantages