Is the website displaying in the correct language? Please confirm or select a different language.
Printer Kiosks
Direct Thermal Printer Kiosk
Custom America VKP80II receipt printer
Slide door access to ticket
8 in paper roll
Printer Kiosk with Ethernet Intercom 
Digital Acoustics Ethernet TCP/IP intercom substation
Thermal-transfer Printer Kiosk
Painted mild steel enclosure
Slide door access to ticket
Zinc-plated 3/4-inch NPT conduit hubs
Additional options available upon request
Note: Printer, thermal transfer ribbon and card stock sold separately
Automated Kiosk Systems Streamline Traffic and Data Management
Rice Lake's Automated Kiosk Systems boost efficiency and optimize the flow of traffic in and out of your facility with fully automated or semi-unattended ticketing. With ticketing kiosks, drivers can check-in, weigh-in and -out, and print tickets without ever exiting the truck, increasing safety for your drivers. By automating everything from point-of-sale to account management, this system virtually eliminates transaction errors.
Rice Lake's kiosks can integrate with the central office and accounting systems, no matter the size. The user-friendly interface is housed in a rugged, painted mild or stainless steel enclosure for long-lasting use. Automated kiosks are ideal for a variety of applications, including ports, transfer stations, landfills, warehouses, feed mills, grain terminals, chemical plants, construction sites, load-out facilities and more.
Line Voltages:
115 or 230 VAC

Frequency:
50/60 Hz

Power Consumption:
0.5 amps (depending on options)

Fusing:
3.15 amps circuit breaker

Humidity:
0 to 95% relative humidity

Printer Communication Ports:
RS-232 or Ethernet

Storage Temperature:
14 °F to 158 °F (-10 °C to 70 °C)

Warranty:
Two-year limited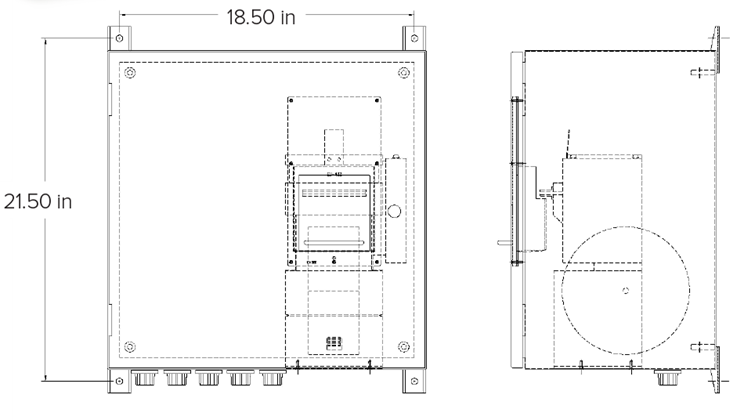 Line Voltages:
115 or 230 VAC

Frequency:
50/60 Hz

Power Consumption:
0.5 amps (depending on options)

Fusing:
6 amp circuit breaker

Humidity:
0 to 95% relative humidity

Printer Serial Ports:
RS-232
Ethernet (optional)

Storage Temperature:
14 °F to 158 °F (-10 °C to 70 °C)

Current Supported Riser Plates:
Zebra® 140XiIIIPlus
Zebra 105SL
Zebra R110Xi
Zebra Z4Mplus
Zebra 2746e
Honeywell 4206
Honeywell I-4212
Intermec/Honeywell 3400e
Intermec/Honeywell 4440

Warranty:
Two-year limited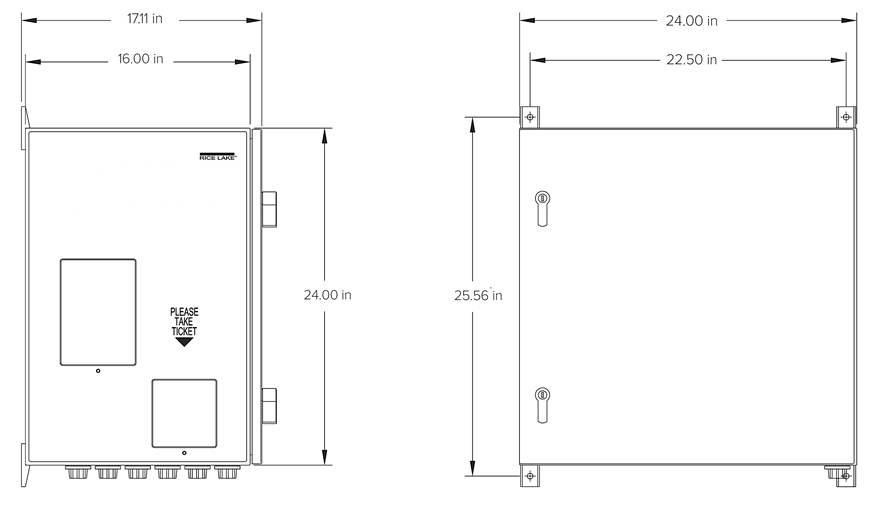 Resources / Downloads
Parts
| Part # | Description | List Price | Cart |
| --- | --- | --- | --- |
| 92971 | Kiosk,Printer Base Unit 115VAC - No Heater Kiosk Enclosure Does Not Include Printer | List Price: $3,255.00 | View Cart |
| 112836 | Printer Kiosk Assembly w/Slide Door access & Holding.(no indicator or heater) Includes: Direct Thermal Printer. Size:20x20x12 - painted beige | List Price: $4,165.00 | View Cart |
| 193639 | Printer Kiosk,Ethernet Assembly w/Slide Door access & Holding.(no indicator or heater) Includes: Direct Thermal Printer. Size:20x20x12 - painted beige Includes Ethernet Printer kit PN 191359 | List Price: $4,235.00 | View Cart |
Options
| Part # | Description | List Price | Cart |
| --- | --- | --- | --- |
| 119693 | Heater,200W Sub-Assembly 120VAC w/ fan & thermostat. Includes Wiring Drawings And Mounting Hardware. | List Price: $715.00 | View Cart |
| 119761 | Ethernet Unmanaged Switch Requires 12 To 36 VDC ESW105, Industrial 5 port | List Price: $315.00 | View Cart |
| 119946 | ATS Printer OPT,Ethernet UDS-1100 Converter with cable and mounting hardware for Kiosk Printer. 40 inch, 28 pin M to 9 pin M. | List Price: $485.00 | View Cart |
| 120040 | ATS Printer OPT,Ethernet UDS-2100 Converter with cable and mounting hardware for kiosk printer. Blunt end. | List Price: $675.00 | View Cart |
| 93463 | Riserplate, Printer Datamax I-4208, I-4308 & I-4212. (Comes w/ Rubber Feet & Nuts.) I-Class Printers | List Price: $315.00 | View Cart |
| 93468 | Riserplate, Printer Intermec 3400D | List Price: $315.00 | View Cart |
| 176452 | Reader,HID Smart Card Assembly Includes Wiegand to RS232 Converter and Mounting Hardware (Replacement for part 85901) | List Price: $610.00 | View Cart |
| 131143 | Printer,Label I-4212e DT RS-232, Parallel, & USB, 115VAC, US Power Cord, CE Mark | List Price: $1,595.00 | View Cart |
| 64884 | Printer OPT,Thermal Trans Standard Thermal Transfer Option (Coated Side In) I-Class | List Price: $133.00 | View Cart |
| 131150 | Ethernet,LAN I-4212e Wired 10/100 | List Price: $365.00 | View Cart |
| 53918 | Printer OPT,Standard Industrial Cutter Kit I Class | List Price: $798.00 | View Cart |
| 109298 | Tag,Direct Thermal 4 Inch DTT x Continuous, 7.2 mil, 3IN Core, 8IN OD 480 FT Roll Wound Out | List Price: $51.00 | View Cart |
| 179762 | Printer,Kiosk 80mm DTL Direct Thermal, Presenter & Retractor RS232/USB, Custom America VKP80II Paper Holder and Power Supply Sold Separately | List Price: $1,175.00 | View Cart |
| 199634 | Printer,Configured VKP80III to VKP80II Emulation Mode. | List Price: $1,455.00 | View Cart |