Is the website displaying in the correct language? Please confirm or select a different language.
Digital Baby Scale - Suspended Infant
Hold function
Units of measure lb/lb, oz/kg
Adjustable automatic shut-off
Ergonomic handheld design
Battery operated, two AA batteries included
Carrying case and top s-hook included
Captured lower hook, removable upper hook (included)
Same-day Shipping Available
Approvals
Some approval documents are available to view by clicking the icons below.
WARNING: Cancer and Reproductive Harm California Proposition 65
Easy, On-site Weighing
The OS-10/OS-25/OS-45 suspended infant scale is a portable device for the safe, accurate weighing of infants and toddlers up to 99 lbs (45 kgs). Designed for use in any health environment, the OS-10/OS-25/OS-45 suspended infant scale is easily transported and powered by two AA batteries. Conveniently lift the infant using the sturdy steel s-hook attached to the optional canvas trousers. This pediatric scale is versatile in its applications, and the innovative weighing technique captures vital information safely and accurately.
Capacity:
OS-10:
22 lb × 0.02 lb
22 lb × 0.25 oz
10 kg × 0.01 kg
OS-25:
55 lb × 0.05 lb
55 lb × 0.5 oz
25 kg × 0.02 kg
OS-45:
99 lb × 0.1 lb
99 lb × 1 oz
45 kg × 0.05 kg

Power:
Two AA batteries (included)

Operating Temperature:
32 °F to 104 °F (0 °C to 40 °C)

Warranty:
One-year limited

Approvals:
CE Marked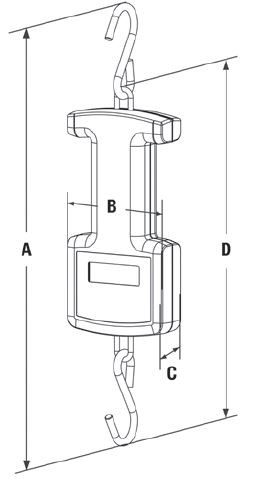 Dimensions
 
Inches
Centimeters
A
14.27
36.25
B
3.62
9.2
C
1.26
3.2
D
11.56
29.35
Shipping Weight
Part #
Model #
L (in)
W (in)
H (in)
Package Wgt. (lb)
Dim Wgt. (lb)
Shipping Wgt.
Shipping Wgt. (lb)
130292
OS-10
10
5
3
2
2
2
 
130293
OS-25
10
5
3
2
2
2
57
130294
OS-45
10
5
3
2
2
2
 
Resources / Downloads
Parts
| Part # | Description | List Price | Cart |
| --- | --- | --- | --- |
| 130292 | Scale, Hanging OS-10 10kg x 0.01kg/22lb x 0.02lb/22lb x 1/4oz Includes carrying case, 2 AA size Alkaline Batteries, manual Bottom hook fully attached, top hook removable | List Price: $90.00 | View Cart |
| 130293 | Scale, Hanging OS-25 25kg x 0.02kg/55lb x 0.05lb/55lb x 1/2oz Includes carrying case, 2 AA size Alkaline Batteries, manual Bottom hook fully attached, top hook removable | List Price: $90.00 | View Cart |
| 130294 | Scale, Hanging OS-45 45kg x 0.05kg/99lb x 0.1lb/99lb x 1oz Includes carrying case, 2 AA size Alkaline Batteries, manual Bottom hook fully attached, top hook removable | List Price: $90.00 | View Cart |
Options
| Part # | Description | List Price | Cart |
| --- | --- | --- | --- |
| 141444 | Sling Seat, Suspended Infant Scale Option for OS-10, OS-25, OS-45 | List Price: $6.00 | View Cart |