Is the website displaying in the correct language? Please confirm or select a different language.
ISOBAR® AC Transient Protector
Four outlets
Six-foot cord with grounded three-prong plug
Lighted on/off switch
Circuit breaker protected
Multiple filter design prevents the different components of your system from interfering with each other
UL1449 listed at 330 volts
Exclusive isolated filter banks prevent equipment interaction
ISOBAR's cascade circuitry allows you to choose more protection for your most sensitive equipment and a lesser degree of protection for equipment with more tolerance
The Isobar® AC Transient Protector features four outlets for two isolated filter banks to prevent equipment interaction, and two outlets for basic or maximum level equipment protection. This cascade circuitry feature allows you to customize your security level based on equipment sensitivity.
Clamp Voltage:
140 V rms 

Peak Surge Current:
13,000 amps

Clamping Time:
Less than five nanoseconds

Input Voltage:
120 VAC

Maximum Current:
15 amps

Maximum Power:
1,875 watts

Noise Suppression:
Frequency Attenuation
50 KHz>20 db
150 KHz>40 db
1 MHz>80 db
>6 MHz>30 db

Dimensions:
6.15 in x 3.56 in x 2.48 in
(W x H x D)

Weight:
Approximately 2 lb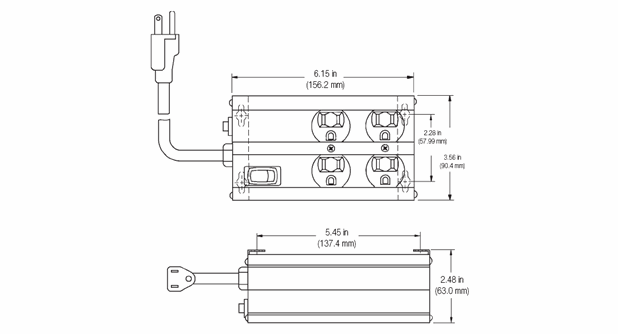 Resources / Downloads
Parts
| Part # | Description | List Price | Cart |
| --- | --- | --- | --- |
| 21146 | AC Protection,Isobar ISO-4 4 Outlet 115 VAC | List Price: $110.00 | View Cart |
| 36663 | AC Protection,Isobar 220VAC Euro-4 4 Outlet 6 ft Cord | List Price: $155.00 | View Cart |
Options
No options found for this product
Replacement Parts
Replacement parts can only be purchased through trained and authorized dealers. You must be logged in as a dealer to view any available replacement parts.
To locate a dealer in your area, please call us at 1-800-472-6703 or fill out a request online.