Is the website displaying in the correct language? Please confirm or select a different language.
PL9000-14 Alloy Steel, Hermetically Sealed Load Cell
The PL9000-14 is a low-profile load cell designed for onboard weighing applications with limited height. With a single-piece bearing plate and an overall profile of only 2.4 inches, the PL9000-14 is ideal for applications with four- or six-point underbody mounts and body rest mounts.
Full Scale Output:
0.50 mV/V at 12,500 lb

Output Resistance:
350 (nominal)

Input Resistance:
350 (nominal)

Material/Finish:
Alloy steel

Temperature:
14 °F to 104 °F (-10 °C to 40 °C)

Rated Excitation:
15 VDC (5-10 V recommended)

Non-linearity:
±0.1% full scale

Insulation Resistance:
500 megohms at 50 VDC

Seal Type:
Hermetically sealed, IP68

 

Cable Length:
32 in cable

Connector Type:
Conxall, 4-pin (male)

Connection Pin Out:
A - Excitation+
B - Signal+
C - Signal-
D - Excitation-

Warranty:
One-year limited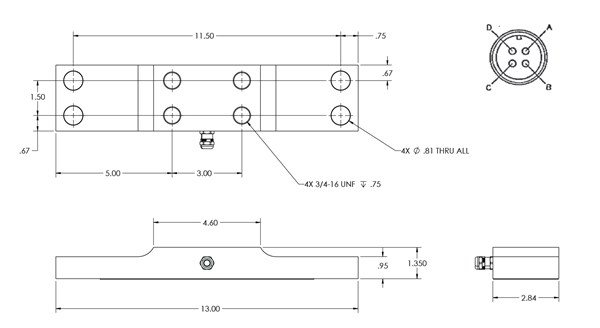 Resources / Downloads
Parts
| Part # | Description | List Price | Cart |
| --- | --- | --- | --- |
| 114322 | Underbody Load Cell 13 Inch PL9000-14 0.5mV/V 10,000 LB 350Ohm 0.5 mV/[email protected],500 LB 350 Ohm | List Price: $775.00 | View Cart |
Options
No options found for this product
Replacement Parts
Replacement parts can only be purchased through trained and authorized dealers. You must be logged in as a dealer to view any available replacement parts.
To locate a dealer in your area, please call us at 1-800-472-6703 or fill out a request online.