Is the website displaying in the correct language? Please confirm or select a different language.
PLSB-25K Alloy Steel, Environmentally Sealed Load Cell
The PLSB-25K is used in Rice Lake's twist-lock and stacking cone mount assemblies. This rigid mount, double-ended shear beam load cell is used when a series of mounts are not fixed to a frame at all times. The PLSB-25K can also be used in applications with dynamic forces.
Output Resistance:
722 (nominal)

Input Resistance:
700 (nominal)

Material/Finish:
Alloy steel

Temperature:
14 °F to 104 °F (-10 °C to 40 °C)

Rated Excitation:
15 VDC (5-10 V recommended)

Non-linearity:
±0.25% full scale

Insulation Resistance:
2,000 megohms at 50 VDC

Seal Type:
Environmentally sealed, IP66

Cable Length:
20 ft - PN 179827
50 ft - PN 191898

Wire Color Code:
Green - Signal +
White - Signal -
Black - Excitation
Drain Wire - Shield

Warranty:
One-year limited warranty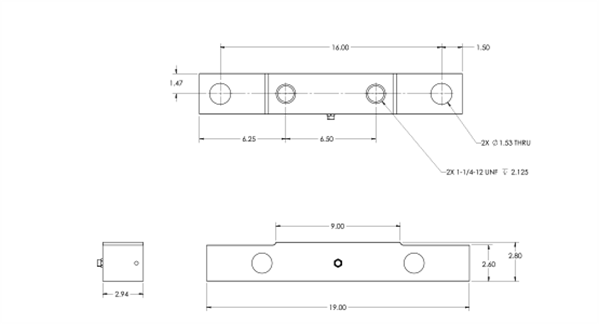 Resources / Downloads
Parts
No parts found for this product
Options
No options found for this product
Replacement Parts
Replacement parts can only be purchased through trained and authorized dealers. You must be logged in as a dealer to view any available replacement parts.
To locate a dealer in your area, please call us at 1-800-472-6703 or fill out a request online.