Is the website displaying in the correct language? Please confirm or select a different language.
RLTM Stainless Steel Tank Weigh Module
Complete Kit Includes
Three or four Rice Lake RLTM stainless steel mounting assemblies with RL32018S-T NTEP Certified, welded-seal stainless steel load cells
One JB4SS NEMA Type 4X stainless steel signal trim junction box
25 ft of hostile environment EL147HE SURVIVOR® load cell cable
Standard Features
Capacities (per module) 500 to 10,000 lb
NTEP Certified load cells, 1:5,000d, Class III multiple cell
Stainless steel construction
Overload and uplift protection
Rocker pin loading
Integral lateral stops
Approvals
Some approval documents are available to view by clicking the icons below.


WARNING: Cancer and Reproductive Harm California Proposition 65
Stainless Steel Tank Weigh Module
The RLTM weigh module assembly features a stainless steel, welded sealed RL30745 load cell and a fully stainless mount including all associated hardware. Using a rocker pin-loading concept, this design provides accurate weighing in most conditions. Standard features include both overload and overlift protection, making it ideal for most outdoor low-capacity tank and vessel weighing applications. Each Rice Lake RLTM module is provided standard with one load cell with 30 ft of cable and one mount.
Applications:
Lower capacity tank and vessel weighing
Process control and batching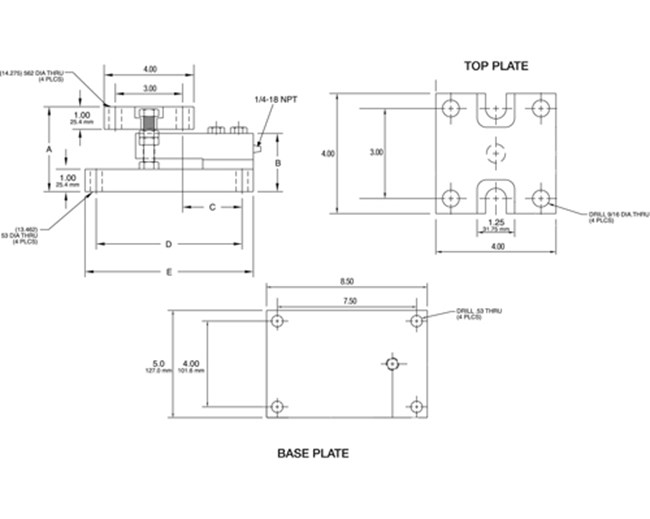 Rated Capacity
A
B
C
D
E
lb/inches
500 to 2,500
3.77
2.59
2.62
6.50
7.50
5,000
3.99
2.83
2.62
6.50
7.50
10,000
4.27
3.08
3.88
7.50
8.50
Resources / Downloads
Parts
| Part # | Description | List Price | Cart |
| --- | --- | --- | --- |
| 159288 | Mount Assy,RLTM-500lb 500lb Tank Weigh Module Stainless Steel Incl RL32018S-T Load Cell | List Price: $1,085.00 | View Cart |
| 159289 | Mount Assy,RLTM-1250lb 1250lb Tank Weigh Module Stainless Steel Incl RL32018S-T Load Cell | List Price: $1,085.00 | View Cart |
| 159290 | Mount Assy,RLTM-2500lb 2500lb Tank Weigh Module Stainless Steel Incl RL32018S-T Load Cell | List Price: $1,085.00 | View Cart |
| 159291 | Mount Assy,RLTM-5000lb 5000lb Tank Weigh Module Stainless Steel Incl RL32018S-T Load Cell | List Price: $1,310.00 | View Cart |
| 159292 | Mount Assy,RLTM-10,000lb 10,000lb Tank Weigh Module Stainless Steel Incl RL32018-T Load Cell | List Price: $1,310.00 | View Cart |