Is the website displaying in the correct language? Please confirm or select a different language.
UJB3T6 DC Transient Protector
Protects load cells from voltage transients
Compatible with signals down to 1 μV per grad
Factory serviceable
Full six-wire with shield protection
#6 SEMS screw type; accepts spade lugs, tinned leads or bare wires up to #12 AWG
Up to eight parallel or summed load cells
Installations exposed to significant transients
Protects serial communication lines
The factory-serviceable UJB3T6 DC Transient Protector can protect up to six data lines or eight load cells. The fiberglass reinforced polyester enclosure can withstand up to 40 psi in washdown applications.
Protection Type:
Six-wire type with separate shield

Maximum Excitation Voltage:
20 VDC or 20 VAC

Clamping Voltage:
75 VDC or 75 VAC

Clamping Time:
75 VDC Stages <100 nanoseconds typical

Peak Surge Currents:
75 VDC Stage, 5,000 amps

Maximum Serial Transmission Rate:
50K baud

Series Resistance:
0.219 ohm typical

Series Inductance:
110 µH typical

Grounding:
20 ft insulated #10 AWG wire

Cable Fitting:
Two nylon strain relief for 0.079 to 0.236 in diameter cable

Enclosure:
NEMA Type 4X, maximum 40 psi washdown
Fiberglass Reinforced Polyester (FRP)

Temperature Range:
Operating:
4 °F to 104 °F (-10 °C to 40 °C)

Circuit Board:
6.75 × 4.75 in with anti-fungal coating

Dimensions:
(L × W × H)
7.63 × 6.63 × 3.25 in

Warranty:
One-year limited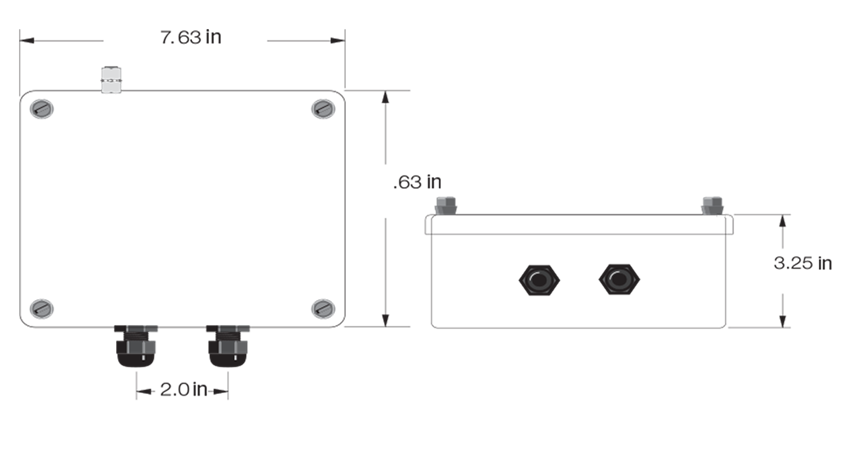 Resources / Downloads
Parts
| Part # | Description | List Price | Cart |
| --- | --- | --- | --- |
| 21134 | Transient Protection, UJB-3T6 Load Cell Protection | List Price: $465.00 | View Cart |
Options
| Part # | Description | List Price | Cart |
| --- | --- | --- | --- |
| 21135 | Board,UJB-3T6 Board Only | List Price: $285.00 | View Cart |