Is the website displaying in the correct language? Please confirm or select a different language.
RL-MPS-30 Mechanical Physician Scale
Sturdy, enameled steel body
Painted beam
Rugged scale understructure
Handpost
Durable wheels for easy transport
Easy operation with two sliding weights
Removable slip-resistant scale base cover
Aluminum height rod measures from 60 to 212 cm
Same-day Shipping Available
The RL-MPS-30 mechanical physician scale with handpost features a painted beam for weighing up to 180 kgs. A handpost installed at a strategic height provides enhanced support for all patients. For added convenience, weight readings can be taken from either the front or back of the scale. The RL-MPS-30 can be easily transported with two built-in wheels and its base is designed with a removable, slip-resistant base cover for easy cleaning.
Capacity:
180 kg x 100 g

Platform Dimensions:
(L × W × H)
37.5 × 27.5 × 10.5 cm

Height Rod:
60 to 212 cm

Height Division:
0.1 cm

Warranty:
Two-year limited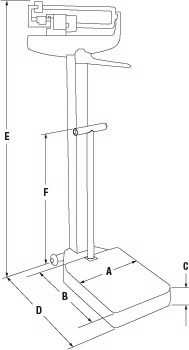 Dimensions
 
Inches
Centimeters
A
10.8
27.4
B
14.8
37.6
C
4.1
10.4
D
22.3
56.6
E
58.5
148.6
F
31.5
80.0
Shipping Weight
Part #
Model #
L (in)
W (in)
H (in)
Package Wgt. (lb)
Dim Wgt. (lb)
Shipping Wgt. (lb)
132703
RL-MPS-30
60
21
7
40
64
64
Resources / Downloads
| Title | View | Email | Category |
| --- | --- | --- | --- |
| How Often Should You Calibrate A Medical Scale? | Download | Email | Health Scales|Home Health Scales|Mechanical Health Scales|Load Cells|Weigh Modules |
| Medical Scale Maintenance | Download | Email | Health Scales|Home Health Scales|Mechanical Health Scales |
| Maintaining Medical Scales: 5 Ways to Care for Your Scale | Download | Email | Health Scales|Home Health Scales|Mechanical Health Scales |
| Calibration Weights for Patient Weighing | Download | Email | Health Scales |
| Title | View | Download | Email | Category |
| --- | --- | --- | --- | --- |
| Health Scale Product Line Overview | View | Download | Email | Health Scales |
| Accurate Patient Weighing With Rice Lake | View | Download | Email | Health Scales |
| How to Zero a Mechanical Scale | View | Download | Email | Health Scales|Mechanical Health Scales|Discontinued Health Scales |
Health Scale Product Line Overview
Accurate Patient Weighing With Rice Lake
How to Zero a Mechanical Scale
Parts
| Part # | Description | List Price | Cart |
| --- | --- | --- | --- |
| 132703 | Scale,RL-MPS-30 180kg x 100g including metric height rod, rear wheels, and handpost | List Price: $385.00 | View Cart |