Is the website displaying in the correct language? Please confirm or select a different language.
RoughDeck® AX Axle Scale
System includes two platforms with anchor brackets and four on/off ramps with anchor tabs (anchor bolts not included)
Scale
(W x L x H): 32 x 84 x 6 in
Axle capacity - tandem platforms - 60,000 lb (two scales 30,000 lb each)
Includes (2) 3/4-10 NC eye bolts
Contains four environmentally sealed, IP67 20,000 lb single-ended shear beam load cells per platform
Treaded top plate with side access junction box
JB4SS TuffSeal® signal trim junction box
Top access foot adjustment holes
Carbon steel captured ball feet
20 ft SURVIVOR® EL147HE cable
Non-Legal for Trade
Ramps
(W x L x H) 32 x 60 x 6 in

Treaded top plate
Maintain accuracy and accountability even in temporary site applications with the RoughDeck AX. This portable, economical option for vehicle and truck weighing is built tough, using time-tested Rice Lake construction. The RoughDeck AX provides a durable and consistent scale for monitoring overloaded and underloaded axle weight.

The RoughDeck AX system includes four on/off ramps and two treaded top plate platforms. Two tandem scale platforms provide axle capacity measurement up to 60,000 pounds. Combined with the TuffSeal® signal trim junction box and SURVIVOR EL147HE cable, the RoughDeck AX system is the ideal portable solution for onsite vehicle weighing.
End Loading Capacity:
133% full scale at 30,000 lb
Warranty:
Load cells two years, all other components one-year limited warranty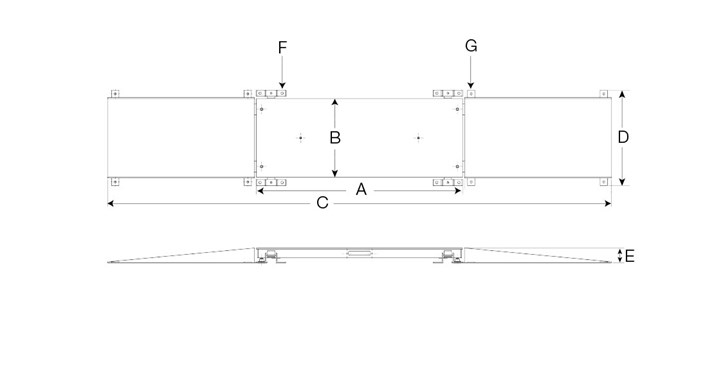 Dimensions
A
84.0 in (213.36 cm)
E
6.0 in (15.24 cm)
B
32.0 in (81.28 cm)
F
1.0 in (2.54 cm)
C
205.5 in (521.97 cm)
G
0.75 in (1.91 cm)
D
38.75 in (98.42 cm)
 
 
Resources / Downloads
Parts
| Part # | Description | List Price | Cart |
| --- | --- | --- | --- |
| 107637 | Scale, Axle Roughdeck AX Includes 2 scales (30,000lb each) and 4 ramps | List Price: $16,500.00 | View Cart |
Options
No options found for this product
Replacement Parts
Replacement parts can only be purchased through trained and authorized dealers. You must be logged in as a dealer to view any available replacement parts.
To locate a dealer in your area, please call us at 1-800-472-6703 or fill out a request online.