Is the website displaying in the correct language? Please confirm or select a different language.
BenchMark™ HE Hostile Environment Bench Scale
304 stainless steel frame and cover
Base design isolates load cell from overloads and shock loads for added durability
Specially designed adjustable support feet provide exceptional traction and will not scratch surfaces
Approvals
Some approval documents are available to view by clicking the icons below.


WARNING: Cancer and Reproductive Harm California Proposition 65
Bench Scale For A Hostile Environment
Starting with a stainless steel IP69K hermetically sealed load cell, the HE Series bench scale addresses the needs of hostile environment and washdown applications. Rice Lake's BenchMark HE bench scale performs reliably through the most demanding tasks, with a base that's specially engineered for overload protection. The HE Series design is available on almost any size or capacity.
Load Cell, NTEP Certified:
IP69K stainless steel, hermetically sealed

Output Impedance:
1,000 ohm

Maximum Overload:
150% to 200% depending on capacity

Overload Protection:
Five-point, independently adjusted

Scale Frame:
AISI304L, glass bead blasted for even appearance

Scale Cover:
AISI304L, straight line finish, Ra=45 +/- 10

Cable Length:
10 ft (3 m)

Compensated Temperature Range:
14 °F to 104 °F (-10 °C to 40 °C)

Warranty:
Three-year limited 
(includes water ingress)

Approvals:
NTEP CC 95-072, Class III, 5,000 d
Measurement Canada AM-5082
Load cell is FM approved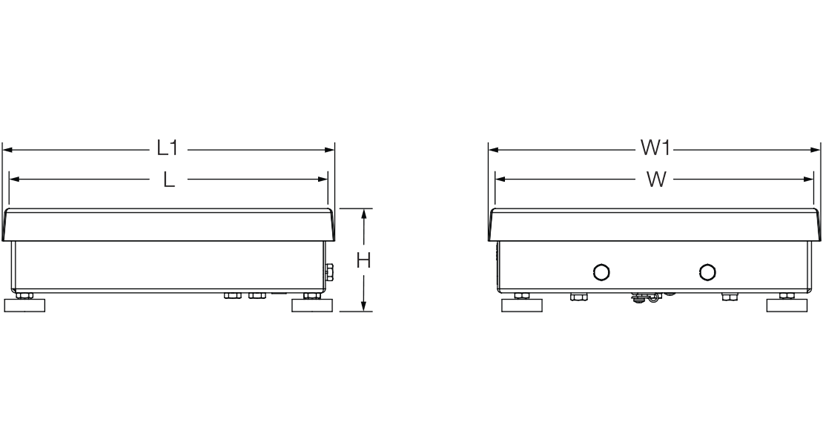 12 × 18 in
H
4.00 in (102 mm)
W
18.00 in (457 mm)
L
12.00 in (305 mm)
W1
18.50 in (470 mm)
L1
12.50 in (318 mm)
 
 
18 × 18 × 5.25 in
H
5.25 in (133 mm)
W
18.00 in (457 mm)
L
18.00 in (457 mm)
W1
18.75 in (476 mm)
L1
18.75 in (476 mm)
 
 
18 × 18 × 5.5 in
H
5.50 in (133 mm)
W
18.00 in (457 mm)
L
18.00 in (457 mm)
W1
18.75 in (476 mm)
L1
18.75 in (476 mm)
 
 
18 × 24 in
H
5.50 in (133 mm)
W
18.00 in (457 mm)
L
24.00 in (610 mm)
W1
18.75 in (476 mm)
L1
24.75 in (629 mm)
 
 
24 × 24 in
H
5.50 in (133 mm)
W
24.00 in (610 mm)
L
24.00 in (610 mm)
W1
24.75 in (629 mm)
L1
24.75 in (629 mm)
 
 
Resources / Downloads
Parts
| Part # | Description | List Price | Cart |
| --- | --- | --- | --- |
| 186897 | Scale,BENCHMARK HE BM1218S-50 12x18x4 50 lb 10ft NTEP III SST | List Price: $1,480.00 | View Cart |
| 186898 | Scale,BENCHMARK HE BM1218S-100 12x18x4 100 lb 10ft NTEP III SST | List Price: $1,480.00 | View Cart |
| 86952 | Scale, BENCHMARK HE BM1818S-50 18x18x5-1/4 50lb 10ft NTEP III SST | List Price: $1,780.00 | View Cart |
| 86953 | Scale, BENCHMARK HE BM1818S-100 18x18x5-1/4 100lb 10ft NTEP III SST | List Price: $1,780.00 | View Cart |
| 86954 | Scale, BENCHMARK HE BM1818S-150 18x18x5-1/4 150lb 10ft NTEP III SST | List Price: $1,780.00 | View Cart |
| 86955 | Scale,BENCHMARK HE BM1818S-200 18x18x5-1/4 200lb 10ft NTEP III SST | List Price: $1,780.00 | View Cart |
| 86956 | Scale, BENCHMARK HE BM1818S-250 18x18x5-1/2 250lb 10ft SST | List Price: $2,130.00 | View Cart |
| 86957 | Scale, BENCHMARK HE BM1818S-300 18x18x5-1/2 300lb 10ft SST | List Price: $2,130.00 | View Cart |
| 86958 | Scale, BENCHMARK HE BM1818S-500 18x18x5-1/2 500lb 10ft SST | List Price: $2,130.00 | View Cart |
| 86959 | Scale, BENCHMARK HE BM1818S-1000 18x18x5-1/2 1000lb 10ft SST | List Price: $2,130.00 | View Cart |
| 86960 | Scale, BENCHMARK HE BM1824S-50 18x24x5-1/2 50lb 10ft NTEP III SST | List Price: $2,405.00 | View Cart |
| 86961 | Scale, BENCHMARK HE BM1824S-100 18x24x5-1/2 100lb 10ft NTEP III SST | List Price: $2,405.00 | View Cart |
| 86962 | Scale, BENCHMARK HE BM1824S-150 18x24x5-1/2 150lb 10ft NTEP III SST | List Price: $2,405.00 | View Cart |
| 86963 | Scale, BENCHMARK HE BM1824S-200 18x24x5-1/2 200lb 10ft NTEP III SST | List Price: $2,405.00 | View Cart |
| 86964 | Scale, BENCHMARK HE BM1824S-250 18x24x5-1/2 250lb 10ft SST | List Price: $2,405.00 | View Cart |
| 86965 | Scale, BENCHMARK HE BM1824S-300 18x24x5-1/2 300lb 10ft SST | List Price: $2,405.00 | View Cart |
| 86966 | Scale, BENCHMARK HE BM1824S-500 18x24x5-1/2 500lb 10ft SST | List Price: $2,405.00 | View Cart |
| 86967 | Scale, BENCHMARK HE BM1824S-1000 18x24x5-1/2 1000lb 10ft SST | List Price: $2,405.00 | View Cart |
| 86968 | Scale, BENCHMARK HE BM2424S-100 24x24x5-1/2 100lb 10ft NTEP III SST | List Price: $2,800.00 | View Cart |
| 86969 | Scale, BENCHMARK HE BM2424S-150 24x24x5-1/2 150lb 10ft NTEP III SST | List Price: $2,800.00 | View Cart |
| 86970 | Scale, BENCHMARK HE BM2424S-200 24x24x5-1/2 200lb 10ft NTEP III SST | List Price: $2,800.00 | View Cart |
| 86971 | Scale,BENCHMARK HE BM2424S-250 24x24x5-1/2 250lb 10ft SST | List Price: $2,800.00 | View Cart |
| 86972 | Scale, BENCHMARK HE BM2424S-300 24x24x5-1/2 300lb 10ft SST | List Price: $2,800.00 | View Cart |
| 86973 | Scale, BENCHMARK HE BM2424S-500 24x24x5-1/2 500lb 10ft SST | List Price: $2,800.00 | View Cart |
| 86974 | Scale, BENCHMARK HE BM2424S-1000 24x24x5-1/2 1000lb 10ft SST | List Price: $2,800.00 | View Cart |
Options
| Part # | Description | List Price | Cart |
| --- | --- | --- | --- |
| 112044 | Column,12 Inch SST Kit OPT Benchmark, Benchmark (SL/HE/HE-X), CW-80B, CW-90B, CW-90XB to IQ+210, CW-90I, CW-90XI, 480/482 Legend Series,680 Synergy Series 380 Synergy Series | List Price: $145.00 | View Cart |
| 112045 | Column,18 Inch SST Kit OPT Benchmark, Benchmark (SL/HE/HE-X), CW-80B, CW-90B, CW-90XB to IQ+210, CW-90I, CW-90XI,480/482 Legend Series, 680 Synergy Series 380 Synergy Series | List Price: $195.00 | View Cart |
| 64576 | Bracket,Attachment Kit OPT, Benchmark for IQ+210, 480/482 Legend Series, 680 Synergy Series, 380 Synergy Series | List Price: $100.00 | View Cart |
| 22125 | LIT,Manual Benchmark Scale | Call for price | View Cart |
| 196363 | Column,12 Inch SST Kit OPT Benchmark, Benchmark (SL/HE), CW-80B, CW-90B, CW-90XB to 882IS/882IS PLUS with battery | List Price: $225.00 | View Cart |
| 196364 | Column,18 Inch SST Kit OPT Benchmark, Benchmark (SL/HE), CW-80B, CW-90B, CW-90XB to 882IS/882IS PLUS with battery | List Price: $275.00 | View Cart |
| 197482 | Column,12 Inch SST Kit OPT Benchmark, Benchmark (SL/HE), CW-80B, CW-90B, CW-90XB to 882IS/882IS PLUS with power supply option (power supply will not be mounted to the column), 880/880 Plus Universal | List Price: $165.00 | View Cart |
| 197484 | Column,18 Inch SST Kit OPT Benchmark, Benchmark (SL/HE), CW-80B, CW-90B, CW-90XB to 882IS/882IS PLUS with power supply (power supply will not be mounted to the column), 880/880 Plus Universal | List Price: $215.00 | View Cart |