Is the website displaying in the correct language? Please confirm or select a different language.
RoughDeck® EQ Equine Floor Scale and Indicator Package
Package includes 4 ft × 6 ft × 4.25 in floor scale with stall mat, 20ft of SURVIVOR EL147HE hostile environment load cell cable and indicator
Mat thickness 0.75 in
Scale
Heavy-duty design with structural steel channel frame
Stall mat to reduce noise and instill equine comfort
4 adjustable stainless steel SUREFOOT™ support feet
Powder-coated black matte finish
Indicator
LCD backlit display for a variety of environments
Battery backed time and date
Communication ports for connecting to a variety of peripherals
Maintain Equine Health with Reliable Weighing
The RoughDeck EQ equine scale is designed specifically for the safe and reliable weighing of horses or other large animals. The heavy-duty removable horse mat provides extra cushion comfort and is noise-reducing, creating a calm weighing environment. 
End Load Capacity:
100% full scale at 2,500 lb

Load Cells:
Model RL32018 alloy steel environmentally sealed IP66

Junction Box:
Side access, TuffSeal JB4SS stainless steel, NEMA Type 4X with a signal card

Feet:
Stainless steel SUREFOOT, adjustable (+0.25 in or -0.125 in) for leveling the scale 

Finish:
Powder coat painted, black matte

Cable Length:
20 ft (6.1m) for connecting junction box to indicator

Threaded Eyebolt:
One lifting hole located in center of scale for easy install (requires 1/2-20NF eyebolt, not included)

Warranty:
Two-year limited
Power:
Line voltages: 100 to 240 VAC
Frequency: 50/60 Hz
DC voltages: n/a

Communication Ports:
Com 1: RS-232 full duplex
Com 2: RS-232 full duplex or 20 mA simplex, continuous
Both ports 1200, 2400, 4800, 9600, 19200, 38400 baud seven or eight data bits, even, odd or no parity

Optional Ethernet and USB Board:
USB five-pin header for PC, printer or flash drive
Ethernet TCP/IP, RJ45 jack, server and client ports

Display:
LCD backlit, transmissive/ transflective, 0.8 in (20 mm), six-digit, seven-segment

Annunciators:
Gross, net, center of zero, standstill, lb, kg, tare, preset tare

Keys/Buttons:
Flat membrane panel, embossed keys, tactile feel

Rating/Material:
Enclosure: NEMA Type 4X/IP66, heavy-gauge stainless steel

Approvals:
NTEP CC 12-123
Measurement Canada AM-5892C
CE Marked
cULus Listed

Dimensions 4 ft x 6 ft x 4.25 in with No Optional Guide Rail 
A
48.00 in
D
66.76 in
B
72.00 in 
E
41.25 in
C
4.25 in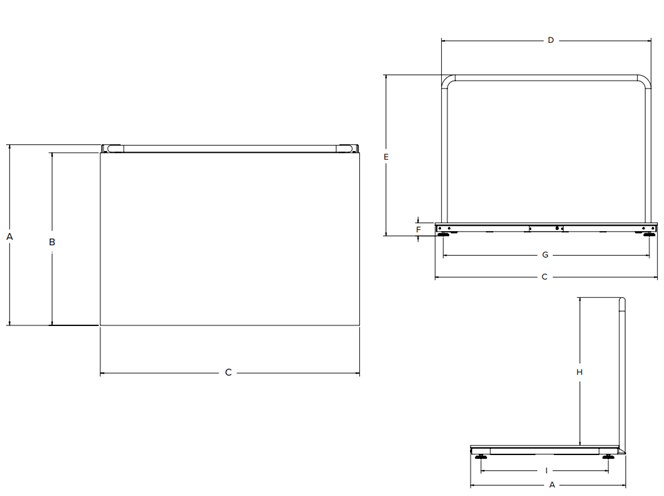 Dimensions 4 ft x 6 ft x 4.25 ft with One Optional Guide Rail
A
50.25 in
F
4.25 in
B
48.00 in
G
66.76 in
C
72.00 in
H
48.00 in
D
67.90 in
I
41.25 in
E
52.26 in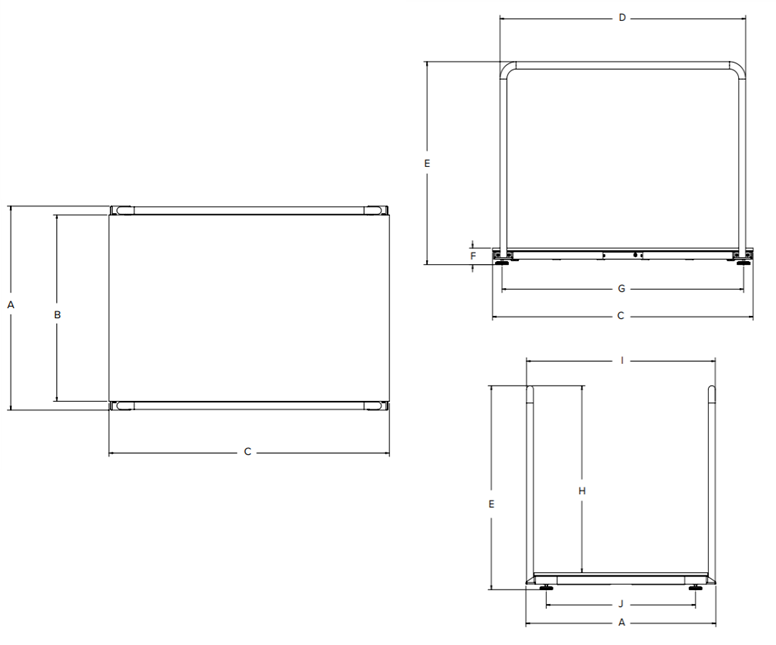 Dimensions 4 ft x 6 ft x 4.25 ft with Two Optional Guide Rails
A
50.25 in
F
4.25 in
B
48.00 in
G
66.76 in
C
72.00 in
H
48.00 in
D
67.90 in
I
52.15 in
E
52.26 in
J
41.25 in
Resources / Downloads
Parts
| Part # | Description | List Price | Cart |
| --- | --- | --- | --- |
| 207811 | Scale PKG, Roughdeck EQ 48x72-2500lb Roughdeck EQ/482 Legend 115VAC Factory Calibrated 2500lb x 0.5lb | List Price: $3,500.00 | View Cart |
Options
| Part # | Description | List Price | Cart |
| --- | --- | --- | --- |
| 12839 | Weight,GHDL 50lb ASTM Class 6 Cast Iron Painted, Density 7.2 | List Price: $150.00 | View Cart |
| 207812 | Guiderail, Roughdeck EQ 5.66ft long x 4.36ft high, includes one rail, mounting hardware black matte finish | List Price: $295.00 | View Cart |
| 18777 | Mounting Plate Set, Roughdeck 1,000-10,000 lb Steel Painted | List Price: $38.00 | View Cart |
| Consult | Access ramps | Call for price | View Cart |
| Consult | Smooth deck instead of diamond safety tread plate | Call for price | View Cart |
Replacement Parts
Replacement parts can only be purchased through trained and authorized dealers. You must be logged in as a dealer to view any available replacement parts.
To locate a dealer in your area, please call us at 1-800-472-6703 or fill out a request online.